 Even if you insist on wearing a different dress each time, these are the shoes you'll wear to every wedding this summer.
Go on almost any fashion website or blog and you'll find an article on why an editor or blogger has given up buying clothes. It's in fashion now, if you will, to not be in fashion. Environmentally conscious style influencers are using their platform for good, to not be pictured in a different outfit every time (they're not damn Carrie Bradshaw!). They're on a mission to convince us that wearing the same thing multiple times is something to be proud of. Because it is.
This is the skirt every influencer will be wearing this spring.
Fast fashion is contributing to the environmental crisis the world is facing. Going on a weekly Penneys spree may seem harmless enough, but it's leading to massive amounts of waste. I'm not immune to fashion trends. I bought a pair of boots in Penneys in the wrong size because I liked the look of them on someone else. The, 'oh, but they're cheap' mentality is a dangerous one, and I'm trying to get out of it and invest in proper pieces I'll have for years. I can't afford the really nice stuff, though, so I'm trying to reduce my spending while shopping smartly - if I really have to shop.
This summer, I'm going to wear dresses I already own to weddings and I'm going to wear a pair of silver strappy sandals with every look. If there's one thing you can do to shop wiser for weddings, it's to buy shoes you can wear to them all. I bought my silver strappies because they go with everything. They're the neutrals of wedding guest style.
ASOS
Advertised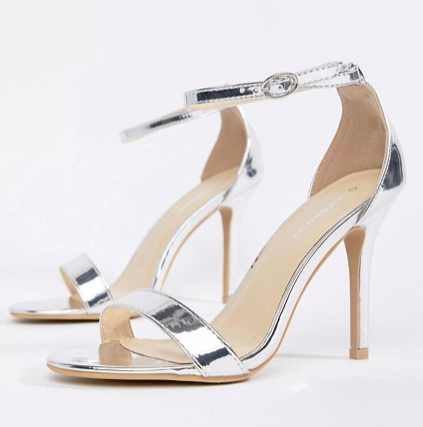 Glamorous Silver Mirror Barely There Heeled Sandal €30.42
The pair above are a cheap and cheerful solution, but the more 'barely there' the better. They'll go with pretty much every party dress, they have an air of glam, and they'll look good on the side of the dancefloor when you've traded them in for flip-flops.
What's your go-to shoe for weddings? Do you forego comfort because you know you won't be wearing them after dinner?