 Shopping for bridal shoes is one of the hardest tasks for a bride. But take note, you don't need to splash out on designer
Some brides pay practically the same price for their wedding shoes as the wedding dress. Others, well, don't. For my wedding last year, I wore a pair of shoes that people were convinced were Jimmy Choos, but they actually came from ASOS (and cost about €30). The main feature was a cluster of jewels on the toe of each shoe - all of which had scattered across the dancefloor at the end of the night. The next morning, my shoes were literal shells of themselves. Also, they were filthy. But I didn't care. I had never intended on wearing them again. Why would I? They were white(ish) and had jewels on the toes.
I get why some brides splash out on their bridal shoes. It's a special day and a special day deserves special things. It's just a shame that those special shoes have to be so wedding-y. I would love to own a pair of Manolo's or Choo's, but because of the price, I'd rather a pair that I can wear all the time. Feck saving them for once a year occasions or dyeing them after the wedding way. That's why I'm treating myself on our one-year anniversary with a pair that I hope will last me close to a lifetime.
Now, there is another reason why women buy wedding shoes that are specifically wedding shoes. For one, they're designed to be more comfortable. Lovers of designer shoes claim that they're also easier to wear than their high street cousins. However, no foot was born to stand all day on a pair of stilts, so after a few hours, if you're not used to them, no matter where they came from, your feet will start to hurt.
If you're down with spending less on your wedding shoes, there are a few things you will have to do before the big day. Buy them well in advance, for a start. And you must wear them in. Walk around the house in them, but don't go outside! If it turns out that they're unbearable, you can return them. Consider cushiony insoles, too, but if you do this, take into consideration the size of the shoes. Remember, you don't need a pair of expensive shoes for your wedding - and don't forget it's not the last opportunity you'll have to own those Jimmy Choos.
River Island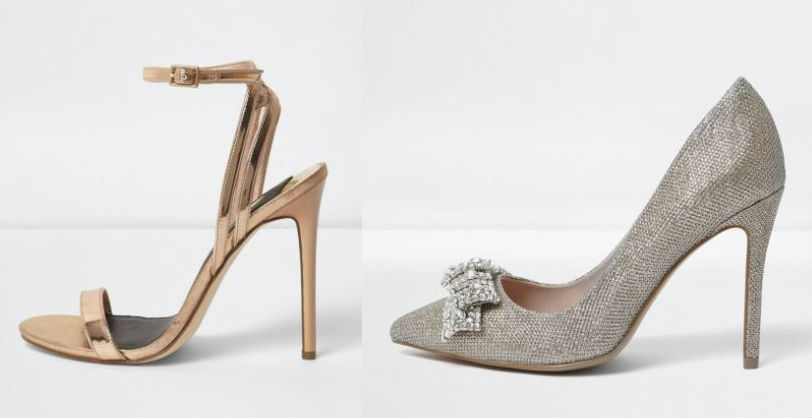 Gold Metallic Barely There Sandals €47 / Gold Wide Fit Embellished Bow Court Shoes €65
Arnotts
Advertised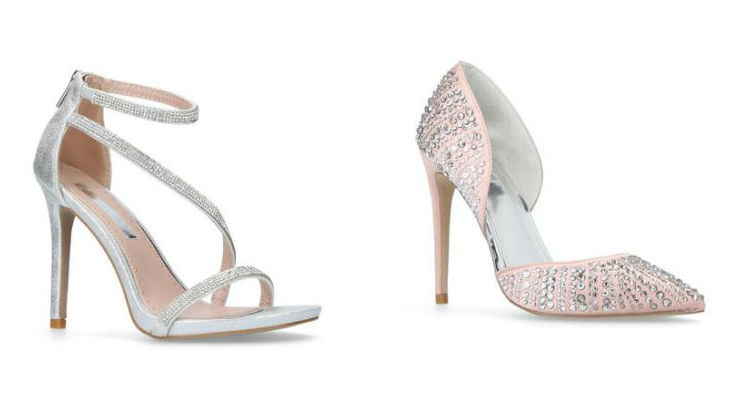 Miss KG Dutchess Heel Silver-Tone €90 / Carvela Kurt Geiger Grade Court Pink €55
ASOS

Be Mine Bridal Lucid Ivory Satin Embellished Heeled Shoes €47.28 / ASOS Honey Bloom Bridal Embellished Heeled Sandals €60.81 / True Decadence Off White Embellished T-Bar Court Shoes €48.65
Debenhams

Miss KG - White 'Alexandra' Court Shoes €65 / No. 1 Jenny Packham - White Diamante 'Penny' High Stiletto Heel Court Shoes €42 / No. 1 Jenny Packham - Ivory Satin 'Paige' High Stiletto Heel Peep Toe Shoe €91
Advertised