 This €45 dress from Dunnes Stores reminds us of Chanel - and it's also something Elle Woods would totally wear.
I came across this dress a couple of days ago and immediately liked it. But I didn't know if I'd ever wear it. I slept on it and came back to it today, and it turns out I love it and want to be wearing it right now. At first, I thought it was 'too pink' but pink is having a renaissance, and it's actually cool now. Back in 2001 when Legally Blonde was released, Elle Woods was the opposite of cool, but this is something she'd wear in a totally different way in 2019.
The tweed look and boxy cut draw inevitable comparisons with Chanel's classic style (wear it as a homage to Karl Lagerfeld if you need an excuse). For going out, we would style it like a Miu Miu girl; we'd get rid of the shoulder bow, put our hair in a high bun and wear chunky black platforms.
The dusty pink shade is also extremely Instagram friendly. Imagine posing in this dress on a street with white Georgian houses and leafy trees? 1000 likes guaranteed.
Dunnes Stores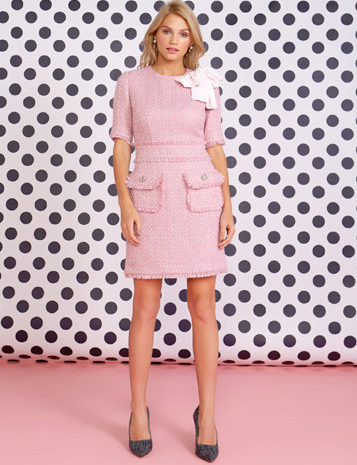 Advertised
If this particular Dunnes Stores dress isn't exactly your thing, they have this other striking number that would set you apart from all the other bosses at work (whether you're a boss or not). It's from the Lennon Courtney collection, and it's double the price but think of the impression you'll make! It also has a designer influence; I think it's very Victoria Beckham from a few seasons ago when she was still being influenced by Herve Leger. Does that make this a future wardrobe staple? Quite possibly.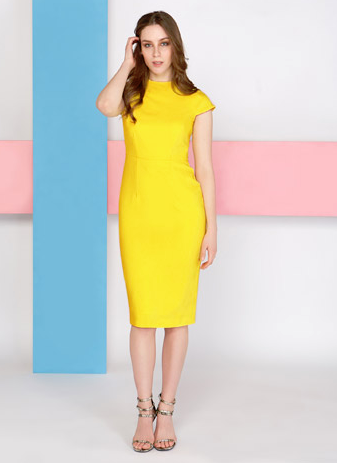 Lennon Courtney at Dunnes Stores Yellow Event Dress €99
Would you wear one or both or neither?