 When you want a new outfit for your Christmas Girls' Night but you're broke, Penneys has your back.
You have it all planned out. The pre-dinner cocktails, the dinner, the after-dinner cocktails, the dancing. You may have gone all out and booked a hotel room. You're really looking forward to your Christmas Girls' Night Out. But there's one problem. You're broke.
So, not for the first time in your life, I'm sure, it's Penneys to the rescue. As usual, they have plenty of party clothes to choose from. The place is falling down with sparkly dresses and shimmery tops, party heels and festive accessories. But this is the outfit that we would wear for your Christmas night out with the girls.
Penneys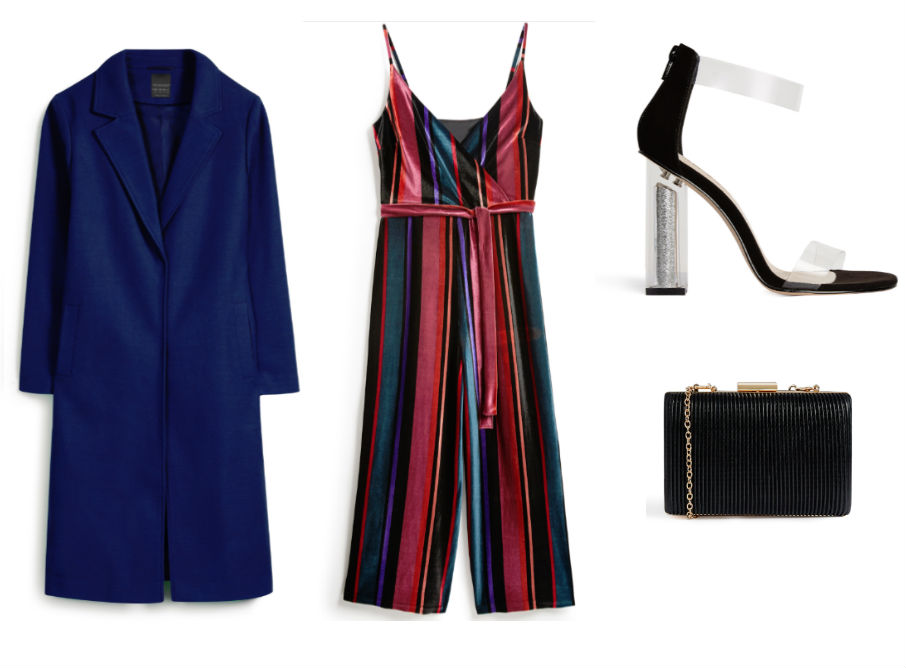 Coat €30 / Jumpsuit €20 / Shoes €19 / Bag €12
Advertised
Here's the method. You wear a colourful jumpsuit because everyone else will be wearing dresses. It's the Christmas jumpsuit version of the striped dress and everyone will love it and you'll get all the compliments. Speaking of compliments, that's why you need the coat. Very few people will be wearing coat colours other than black, navy or camel so, again, you'll stand out from the crowd. As for the shoes, well, there's sparkle in the heel! If you can bear to bear your feet more than once over the festive period, you'll wear these countless times with various outfits. (If the thought of exposing your toes brings you out in a cold shiver, there are these heels from Mango that will go with all of your Christmas outfits.) Finally, the bag. I chose it because everyone needs a handy black party bag. And yes, it will look right with the coat.
The entire outfit costs €81 which isn't a price you associate with Penneys - until you add it up. It gives you a lovely winter coat you'll definitely wear again and again, ditto with the shoes and bag. If you're going home for Christmas, you'll get another wear out of the jumpy, too.
Have you ever worn literally head to toe Penneys?