 Forbidden Fruit has been and gone, which means one thing. Festival season is here. We also know it's here thanks to the showers and buckets of rain that happen to descend anytime there is a concert outdoors in Ireland. It's like the Leaving Cert; that's when summer will arrive for a two week period.
Festivals are great fun, and festival fashion is even more fun thanks to lot's of celeb inspired outfits and the high street shops zoning in on that relaxed bohemian style. But before you race off to Glasto, I've got some advice to share.
Step back in time to the 80s and do wear a bum bag.
In 1989, I was seven and was the proud owner of a neon pink bum bag. I thought I was the trendiest thing on the planet when I probably wasn't. But now I feel I might just be able to wear it again (I still have it); oh how fashion reinvents itself. Bum bags are the most festival friendly accessory as there is nothing worse than getting hit in the face by someone's back pack at a concert (I speak from experience) so save a few noses and get one. On the plus side, your hands will be free to blow kisses at Hozier.
Do not dress like a fairy
I am an advocate of there being no rules in fashion, but fairy-like attire is not for a festival. Angel wings have a restricted use - hen weekends only. And your niece's 2nd birthday party.
Do save space in your rucksack and bring playsuits, but be warned.
Advertised
There are tonnes of great playsuits on the high street, especially from Primark and New Look, but such items should come with a warning on the tag. Trying to use the portaloo while wearing a stylish "onsie" can be, let's just say, awkward. Summer's trend of dungarees might be the better option!
Do leave your best bits at home
Jumping around in the pit to Daft Punk is not exactly the best place for your Burberry rain coat; so pack things that you won't mind getting muddy. I lost one Chanel earring at a Justin Timberlake concert and it has scarred me for life.
Don't try and dress like your favourite celeb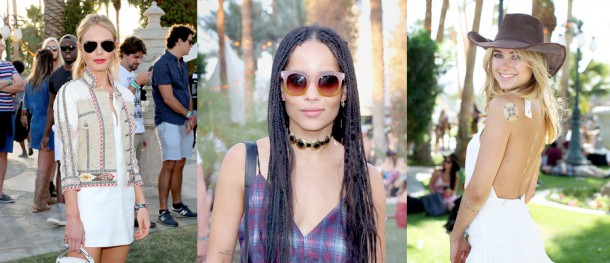 Celebrity impersonators should be limited to things like Britain's Got Talent and that goes for their style too. We all want to be like Kate Bosworth, but there is no time like a festival to be original. Though, a little inspiration is allowed.
I'm preparing for two festivals this year, which is a costly affair, so I plan on making my summer wardrobe last right up to closing time in Ibiza. Try customising some tees and jeans you already have to transform them into a festival must have. Take an old pair of jeans to cut into shorts, add your own fringing with a scissors, or cut strands into the sleeves and hem of a t-shirt. Ta-dah, you're trendy! And don't forget to accessorise!
Don't forget your wellies. Your feet will love you forever
Ah the festival staple, the Wellington. From Kate to Alexa, the welly has never been so appealing, even with disco pants. Walk around Glastonbury as if you are on a catwalk in a pair of classic green Hunter's, no one makes them quite like they do. Nothing is worse than wet feet, or the post-festival cold, so this one is a given.
Advertised
What festivals are you heading to this year? Have you any fashion tips to share?