 I love The Good Wife. I am 100% addicted to it. I don't know if it's the strength of its female lead, or the stories from the office of Lockhart Gardner that always took my fancy (as well as Will, who has always taken my fancy). But one thing I will say about the show: it is impeccably styled.
Alicia does not have one thread out of place, one unbrushed piece of hair, and her bag collection? Well, that's like having access to the entire back catalogue from Prada. No fictional character has ever looked so polished in my eyes. So without the costume designers, incredible designer wardrobe and huge budget, can we embrace our inner Mrs. Florick? Oh yes we can. 
For our new season work wardrobe, we can embrace the lighter shades; it's always good to add a dark tone into the mix which, I think, makes soft summer colours more practical. Navy is such a great colour. It's less harsh than black, and for those of us who like to stick to a dark palette, navy and darker blues are always a great option as the weather gets warmer.
M&S have some amazing pieces in store now and on the way in the next month or two. Taupe, camel and other neutral shades are paving the way for a very chic look that reminds me of Max Mara and its light palette for outerwear (CJ in The West Wing had some fab Max Mara outfits!). Shirt dresses and pencil skirts are two of the strongest looks from M&S this season and perfect options to mix in with tops and jackets you already have.
Advertised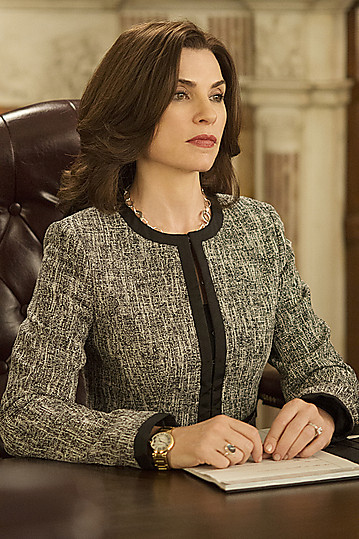 Zara continues to have some great office pieces; short jackets are their pick for summer in a variety of colours and they are all around €50. I should also note that a classic jacket from Zara is always a good purchase. I have a black blazer from my accounting days that's still going strong, ten years later. And lastly there is always room for a good nude or natural tone shoe. They basically match everything, so when all else fails you have a "go-to" shoe to rely on. 
I might adore Alicia Florick and her wardrobe, but have you a character's wardrobe that you love? Can you get their look into your closet for work this season?