 For the men of Hollywood, their most stylish moment of the year often occurs in February as they attend the Academy Awards in black tie, dressed to the nines for the most formal event on the calendar.
While that can mean that you should go for something classic, we've seen at previous red carpet events this year to date that there are a few more adventurous men out there who are willing to step outside the norm. And we love to see something a bit more interesting than a black suit. 
Matthew McConaughey's Dolce & Gabbana tux was shiny, but in a good way, believe it or not. The subtle pattern of the silver jacket, matched with the dark tones of the rest of his outfit, were enough to make this a winner in our book.
As for Neil Patrick Harris, he was hit and miss throughout the night. We're not quite sure on the grey Brunello Cucinelli he arrived in (part of us likes the risk he took, and part of us thinks it looks like a tux made from something that used to be a suit) but the red and black number he switched into for presenting the show itself was a much better look for him.
His husband David Burtka looked very well in his white jacket on the red carpet, however. 
David Oyelowo's red Dolce & Gabbana formal wear was an eye-catching piece on the red carpet, and he wore it with confidence. Benedict Cumberbatch pulled off a white jacket tux, a look which can often make you appear a bit like a waiter at a fancy restaurant, but the subtle black details on the shirt and in his accessories were the deciding factor. (We have to say at this point how impressed we were with his wife Sophie's Liz Hurley moment!)
Advertised
Dwayne 'The Rock' Johnson and Eddie Redmayne both opted for a midnight blue tuxedo. We liked Eddie's fitted number - he looked so nimble! - and we also liked The Rock's shoulders.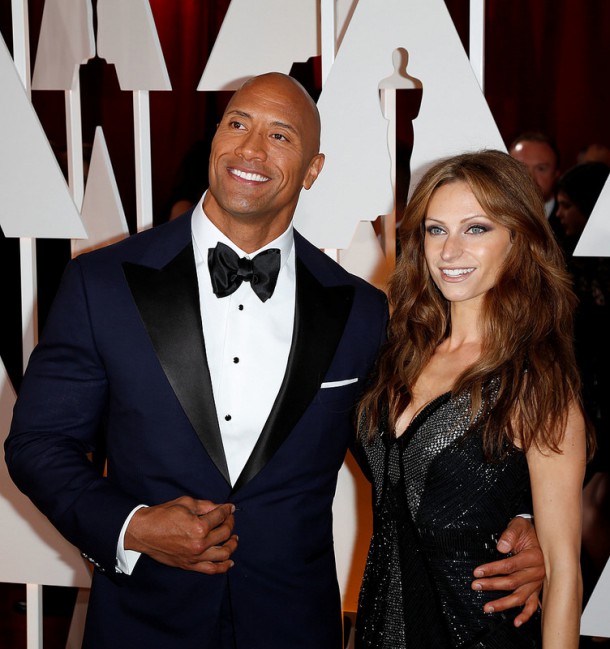 When it comes to classic looks, Michael Keaton, Aalejandro González Iñárritu, Steve Carell and Chris Pratt all opted for reserved black numbers showing why timeless looks will never go out of style. Andy Samberg and Chris Pine both also opted for black, but with a wide lapel of a differing material, small details that made them stand out.
In particular, the wrap effect of Chris Pine's double breasted Armani jacket was a real winner on the night.
Finally, we're not quite sure exactly what Jared Leto was going for here, let's open that to the floor! 
Advertised