 Minimal fashion is not just a way of dressing, it's an approach to shopping and styling. The desire is that you will have less clothes but that each item you own can be styled together to create endless combinations.
If you are the type of person who feels you are always buying clothes but 'never have anything to wear' then you should consider adapting this way of shopping.
Taking on a minimal way of dressing can be both daunting and liberating at the same time. You need to be ready to approach shopping and styling in a whole new way but, once you adapt you will find that you are saving not just money, but, a lot of time too.
How so, you ask. Well, by paring down your wardrobe dramatically, keeping only the pieces that make you feel great, with several other key items you can manage to dress well with significantly less. You will want to wear everything you own and everything you own can be worn together.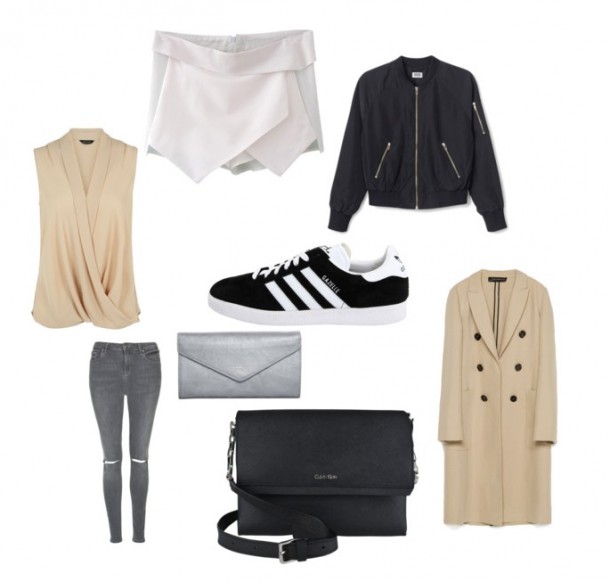 Stone wrap front sleevless top, €21 New look // masculine double breasted coat, €180 Zara // white skort €16 ustrendy.com // grey ripped Jamie jeans, €59 Topshop // Adidas original Gazelle, €57 zappos.com // Calvin Klein shoulder bag, €225 vanmildert.com // Liebeskind wallet, €91 zalando.co.uk // bomber jacket, €65 weekday.com
By buying clothes in tones that compliment each other, you will notice a sudden rise in the amount of outfit combinations you can create from the items you already have.
Start by deciding which colors you like, carefully considering a few key tones that go well together and then keep them at the front of your mind when shopping from now on. Aside from the occasional statement piece, you should focus on only buying clothes you know you already have several items this item will go well with... no more buying an item, then having to buy a whole new outfit just to wear it with!
In this post I have put together inspiration boards (see them above and below) to show you how well items can be mixed and matched in huge variety once all of the tones compliment each other.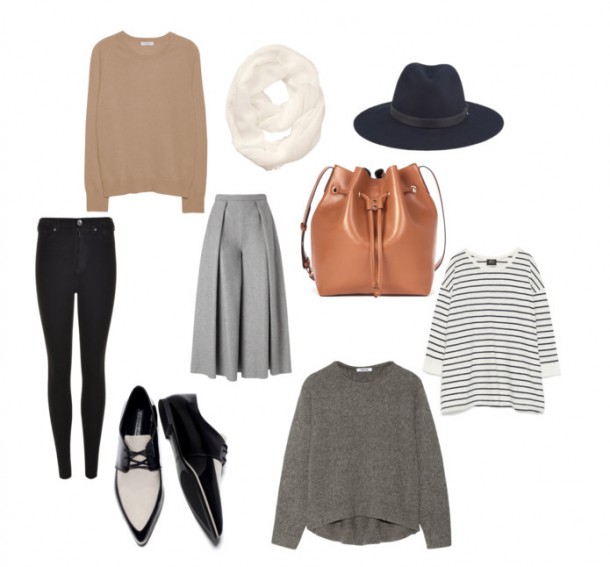 Helmut Lang wool-blend sweater €405 net-a-porter.com // Equipment cashmere camel sweater, €255 equipmentfr.com // striped kimono t-shirt, €24 Zara // Rejina grey culottes, €275 avenue32.com // Dr Denim skinny jeans, €56 valmildert.com // patent shoes, €56 Zara // drawstring bucket bag, €57 solesociety.com // lux white scarf, €43 EUR athleta.gap.com //navy wide brim fedora, €23o Rag & Bone
It can be difficult to downsize. We naturally tend to get attached to material possessions, especially those for which we have fond memories or have sentimental value. Start by approaching your wardrobe with the following questions:
Does it flatter your figure?

Is is undamaged (no stains, holes etc.)?

Would you buy it right now if you saw it for the first time?
If the answer to any of these questions is no then you need to fix/donate or sell. 
Bring any stained items to get dry cleaned and any ill-fitting clothes to the dressmakers then donate or sell the items you no longer love or simply don't look good on you. Make a night of getting the girls together and doing a clothes swap... you'll be amazed at how good that old top might look on a friend!
Need more fashion inspo? There's loads more in our fashion section. 
Advertised

Is your wardrobe full of clothes but you still have nothing to wear? Is this just the inspiration you need to create a whole new look? Remember, there's still plenty of time to spring clean!
Sarah Hanrahan is an Irish fashion blogger who is the face of icomeundone.com. She is passionate about individuality and has a keen interest in writing. You can follow her on Twitter @icome_undone, on Instagram @i_come_undone and you'll find her Facebook page here.