 The Zara ballerina shoes that won't make you look like a try-hard, or like a little girl
The ballet shoe trend has been around for quite some time now. And this season, designers all over the place are taking it up a notch. While we were happily skipping away in our easy-to-wear ballet slipper-inspired flats from Topshop, the fashion world decided that we needed to upgrade from Grade 1 and get en pointe. This is why these Zara ballerina shoes have come at just the right time.
Miu Miu has the shoe that will be on easy flat loving fashionista's wishlist: the punked up version of the cute trend make them show-stoppers, and they don't even have a heel.
The key takeaway in all this is that ballet slippers are not the lovely, sweet little shoesies they once were. They have a kick to them. Miu Miu's straps and interesting patterns and textures are probably not great for the windy, rainy ahead, but my, are they purdy. And comfy.
Now, Zara has come up with the perfect dupes, and at €39.99, they are a fraction of the Miu Miu price.
Advertised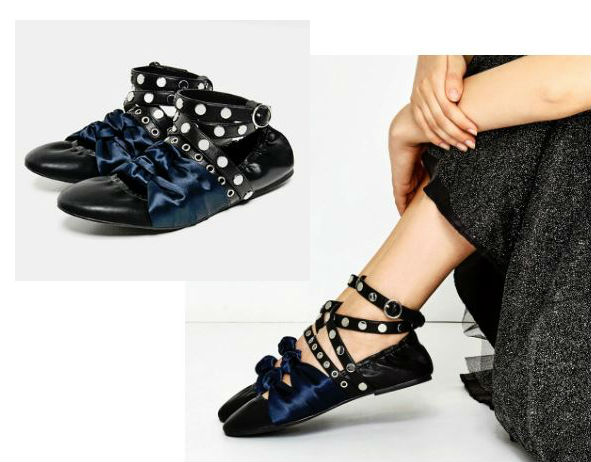 Look at them! Straps and ribbons at all.
If they're a bit much, here comes Zara to the rescue again, with their absolutely darling take on the ballet trend. From the almost-point detail to the heel, they are the perfect black flat. The X-factor is obviously the gorgeous little frill and the best thing is that it's not too frou-frou. It's a grown-up frill. They also cost €39.99, so, like, get them both!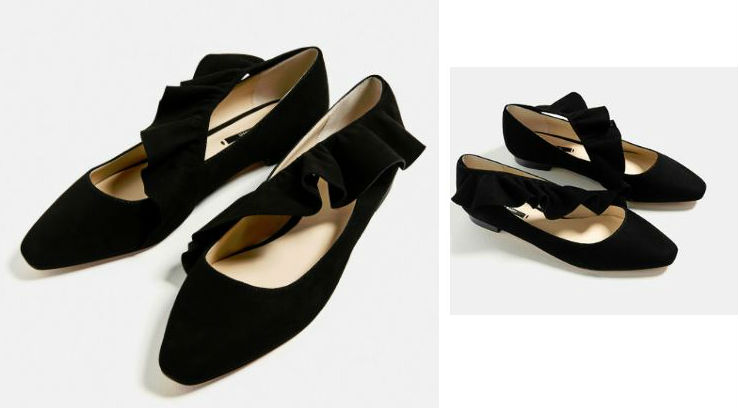 They are both work and play appropriate and we think you're going to see a lot more second generation ballet slippers around town pretty soon.
So long sandals, it's slipper time!
Advertised
Do you wear flats regularly? Have you already caught on to the souped up ballet slipper thing, or will you give them a try?