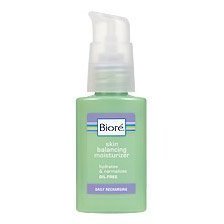 God, I used to LOVE Bioré's Pore Cleansing Strips when I was a teenager. They were my first brush with the brand and I used them religiously, spending far longer than strictly normal marvelling at the inverted plugs of sebum that they managed to pull out of my pores but always a little disappointed that they never seemed to banish those pesky blackheads for good.
My experience with their Shine Control Moisturiser was similarly mixed. It's an oil-free, lightweight white fluid so on the plus side it's easily absorbed, and it's definitely mattifying. On application, it feels fresh and cool on the skin, and does provide instant hydration. However, I found that while it kept my skin shine-free during the day, it did not keep it sufficiently moisturised and I felt tightness creeping across my forehead and cheeks and a few miniscule flakes manifesting around my nose and chin.
Advertised
I think this would be a good bet if you've extremely oily skin that needs to be kept under strict control; if you're prone to areas of dehydration, though, I'd say steer clear.