 Stictly Come Dancing is one of the few programmes I'll sit down and watch. I don't watch it for the dancing - I watch it for the makeup. A job like that is a makeup artist's dream. It's all about fun, no-limits makeup, and the show is an endless source of makeup inspiration. Last week, we did Streisand-inspired '60s makeup, and this time we're looking to Strictly for Inspiration.
So whether you're heading out for a night worthy of some full-on makeuo, or staying in on the couch to watch Strictly clips on Youtube for hours and hours, this makeup look might just be for you.
A couple of things to note - the makeup on the show is like an extreme form of stage makeup; it's designed to catch the light and look great at a distance. Up close and in normal light, it would look clownish and incredibly overdone. That's why I've taken my inspiration from the heavy-lashed eyes and red lips you'll typically see in Latin dances, but toned it down so that it's actually wearable in the real world.
That said, it's still very full-on, but it will look great in softer evening light, as you'll see in the photos.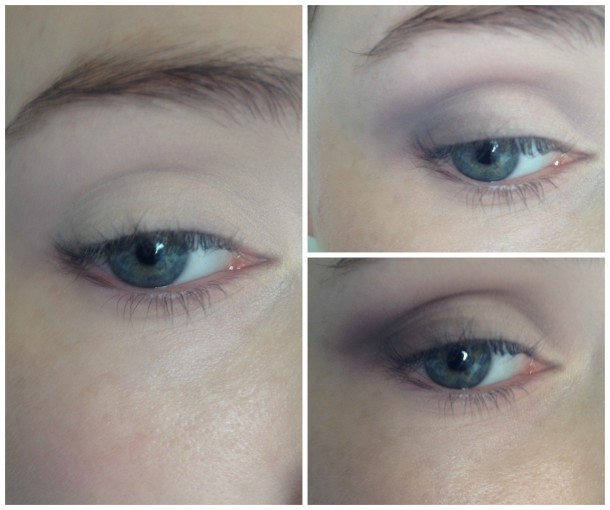 Step One
  This isn't a natural look, so the ultimate aim is skin that looks almost like plastic. For that, you need a glowy finish and higher coverage, so I'm using Rimmel's Lasting Finish 25 Hour Nude Foundation in Light Porcelain. I don't want full coverage - it can look weird and masky. I'll cover any blemishes with some concealer later.
Next, I'm applying Clarins Instant Concealer - which is incredibly effective - under my eyes. I've mixed it with a dash of white foundation to ensure that it's a shade lighter than my skin tone. I'm blending it under the eye area all the way in toward my nose.
Next, to eyes. Apply a nude shadow all over the lid, all the way up to your brow. I'm using the Long-Lasting Eye Quartet Mineral Palette from Clarins in 'Skin Tones'. I'm using the pale nude shade.
For a contour to the eye, grab a deep brown matte shadow. I'm using Mac's Shadowy Lady, and applying it with a fluffy brush through  the crease of my eye and on the outer third of the lid.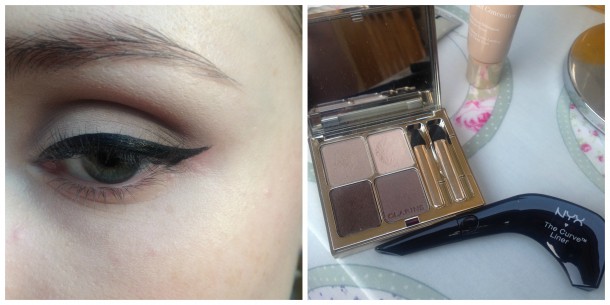 Step Two
Then, with the same brush, apply a warm chocolate shade - slightly iridescent, and blend it over the first shade to eliminate any harsh lines. I'm using the warm chocolate shade from the same Clarins palette.
Advertised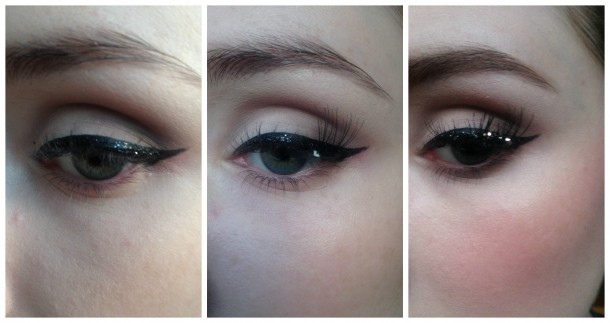 Step Three
Again, this wouldn't be a Strictly inspired look without glitter! Go over the liner with a black liquid sparkle. I'm using Collection's Glam Crystal's gel liner in Rock Chick.
Lashes are essential. Instead of using a strip, which I find uncomfortable, I'm loading on lots of individuals. I'm using a box of Ardell individuals with a mixture of long, medium and short. I'm applying a few long lashes to the outer corner, and shortening the length as I work my way in. Don't forget to apply lots of mascara - top and bottom.
Fill in your brows lightly - a strong brow would throw this already heavy look off-balance. Then, grab your warm brown shadow again and run it under the lower lashline to keep the eye from looking too top-heavy.
Step Four
To finish the face, add some blush. I'm using Clarins multi-blush in Grenadine becasue it has a reddish undertone that will work with the red lip. If you have deeper skin than mine, go all out with some contour. With a look this full-on, my pale skin just can't get away with it.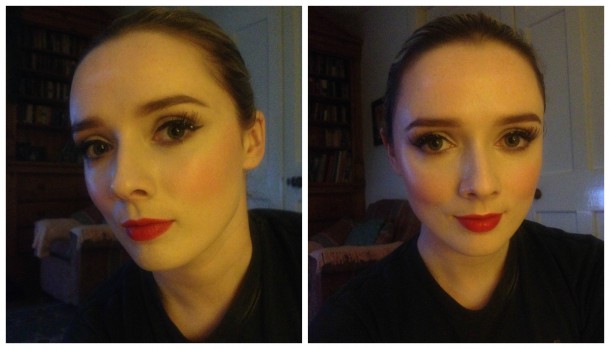 You're done! See how the evening look transforms the makeup and takes away the harshness? The eyes are a bit fiddly, but anyone can create this look. It's equally lovely as a classic '50s makeup without the glitter.
Advertised
Will you be sporting something like this tonight? Tweet us a pic of your look. To the comments!