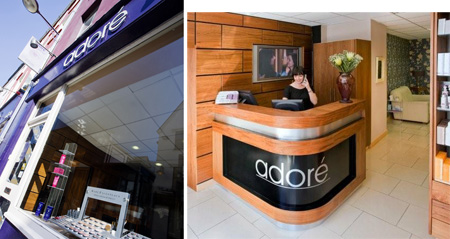 We sent intrepid southern correspondent MontyC (and mucho frequent beaut.ie commenter) to Cork city's Adoré day spa last week, for a Crystal Clear Oxygen facial - purely in the interests of hard, scientific research, you understand. So, how did she fare at her testing, down-the-mines-type task?
Take it away, MontyC:
If a girl needed some well earned R&R that involved a fabulous beauty treatment or three, the trend over the last few years has been for her to make her way to her nearest spa. Nearly every hotel worth its salt has one. But what about the beauty salons that have been in our towns and cities while the spa was still a twinkle in someone's eye?
Well, last Friday, with a spring in my step, I visited Adoré on Oliver Plunkett Street, Cork, to check out an anti-ageing oxygen facial. I was met by my therapist, the very lovely Michelle (who wearing gorgeous green eyeliner!) and she guided me through what was involved. The oxygen facial is a little different to your average facial: along with products from the Crystal Clear skin system range, Michelle used a little handheld device that blew high pressure air onto my skin. The sensation of it takes a little getting used to but believe me, it's well worth it!
Advertised
After cleansing and lightly exfoliating my skin, she started with my neck and worked upwards, doing a little patch of skin at a time. The treatment uses a very fine, but high-pressure flow of tiny crystals that are directed onto the skin. These crystals lift the dead skin cells and the vacuum action stimulates it. At the beginning of the treatment Michelle told me that the effect would be instant. She wasn't joking. She did one half of my face first to allow me to compare one side with the other. The difference was absolutely amazing! Once she finished the rest of my face, she put on a soothing face masked, and gently massaged my hands and arms while we chatted away and waited for the mask to set.
Afterwards (the whole thing take around an hour), my skin looked and felt fantastic with that wonderful 'thoroughly cleaned' feeling.
If you've got a Big Day or a big night coming up or just want to re-charge your skin's batteries, then this the treatment for you.
The Crystal Clear Oxygen Facial costs €120 (A course of six is €620) and is available at Adoré, Hair & Beauty Salon, 130 Oliver Plunkett St Lower, Cork. 021 427 0031