 The brains behind the Cocoa Brown empire Marissa Carter launched her 103 product cosmetics line Carter Beauty last week.
If there's one thing we know about Marissa Carter, it's that she's a grafter through and through. You know her - practically personally - from social media and social appearances. You probably know the lady as well as you know her award-winning tan. Marissa created Cocoa Brown as an affordable but premium tan to rival the expensive competition. And it worked. She created Carter Beauty with the same idea in mind. Let me say one thing: I wore Cocoa Brown on my wedding day, and if Carter Beauty had existed last year, I would have worn that too.
Like Cocoa Brown, the range is cruelty-free and just as importantly, IMO, it's amazing value for money with the products ranging from €3.95 to €14.95. And, of course, it's Irish, and we love supporting Irish.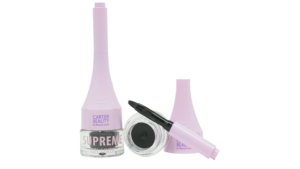 Carter Beauty by Marissa Carter Supreme Gel Liner in Jet Black €4.95
Marissa says:
Advertised
Beauty has always been my passion. Before Cocoa Brown I owned my own salon, Carter Beauty and the satisfaction I got from seeing a woman watching herself transform was second to none. Carter Beauty is almost an ode to that. It's really important to us that our customers get value for their money without skimping on quality.
Marissa's hero product in the range is the Supreme Gel Liner. Mine? I'm a sucker for a full-coverage matte foundation, and the Full Measure HD Foundation does the job well. It comes in 12 shades, which is great, and you can get a matte but dewy effect by wearing one of the three liquid illuminators underneath. I saw a member of #TeamCB doing this at the launch last week and have been doing the same myself ever since!


Carter Beauty by Marissa Carter Get Lit Liquid Illuminator in Gold €4.95
Also included in the massive range are four-shade mini palettes, 18-shade eyeshadow palettes, brow products, eyelashes, mascaras, liners, lip tints and sticks, primer... it basically has it all.
We expect it to follow in its tan sister's footsteps and spread worldwide soon. For now, find it in store at your local pharmacy from this week!