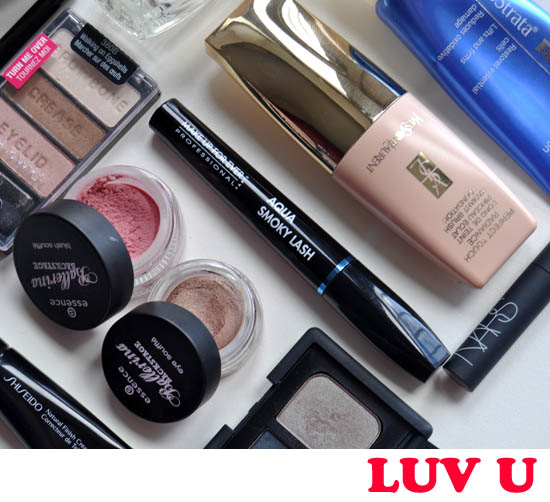 Oh go on, lets have another one of those posts which are pretty much product porn, shall we? Whereupon I wax lyrical about some of the stuff that's gracing my noggin on a regular basis at the moment. We've had a goo at some bits and bobs already but some stuff is new - so lets get down to business, shall we?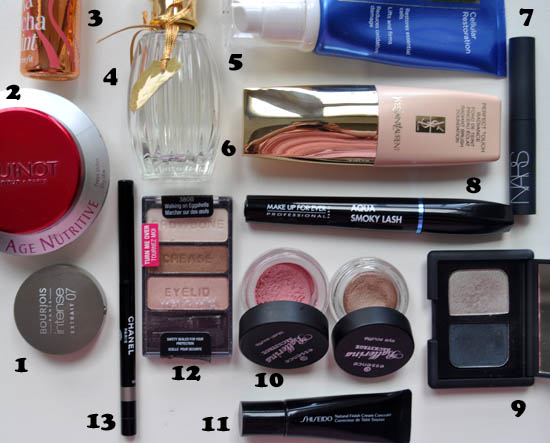 VERY LUCKY 13 in this case, right?
Lets take a closer look at some of these bad boys.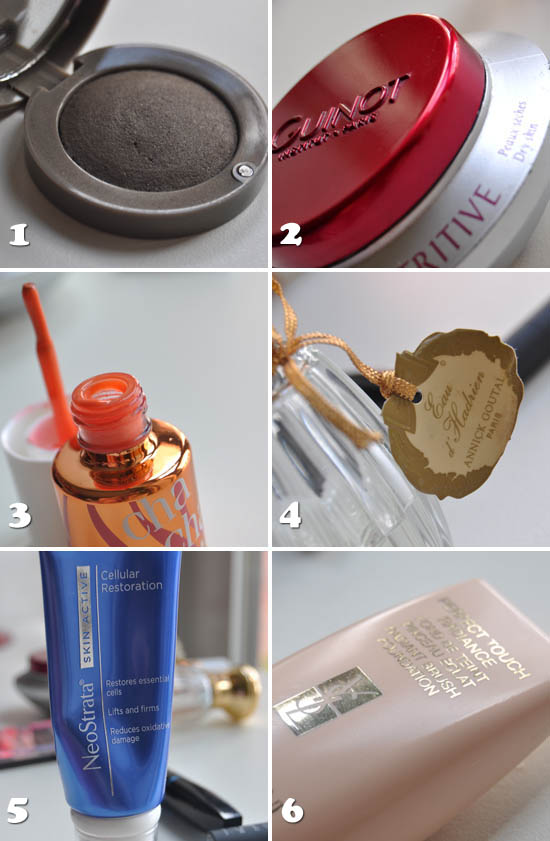 1. One of Bourjois' new Intense Pots, this is shade 07.  It is what it says it is; a much more amped-up version of the original little round pots with excellent pigmentation and staying power. This mostly matte deep brown is a great daytime basic and it's getting a lot of love in my bathroom.
2. I'd come to the end of a couple of pots and vials of favoured skincare - Clarins Vital Light Day is a beloved day cream of mine of late, and I've just used up the end of my second pot. It is expensive, and at a little bit of a loss for what to go to next, I was digging about in my stash for something else I like and rediscovered Guinot Age Nutritive. An even more hideous price, this is something like €162. Yeah, yeah I know. No, I didn't pay for it. Yes, yes it is gorgeous. But I think I'll  be moving on to something a little better priced as I'm really dedicated these days to seeking out things we can all actually afford without taking out a second mortgage.
3. Ah sure look at it: it's Benefit's Cha Cha Tint, it'll be available NEXT WEEK! and oh boy oh boy it's so pretty. You can see swatches of it and you can also see it in action on my cheeks in a quick FOTD. I'm using this very regularly at the moment.
4. This is another very old fave of mine. It's Annick Goutal's Eau d'Hadrien and it manages to be sweet and refreshing without being one bit saccharine, vanilla-laden or headache-inducing. My bottle is nearly four years old and I am eking it out - I absolutely adore this fragrance and will be gutted when the bottle goes, so use it sparingly. It's been out of the cupboard twice recently. I love this so much I find it to be practically edible - and my mouth is watering writing this.
Advertised
5. We had a giveaway for the full range of this stuff recently: NeoStrata makes serious skincare and this is Skin Active Cellular Restoration. Less a serum - it's quite dry and thick in texture - and more a first step, I'm using this pre-moisturiser and liking it. It's not the normal sort of pre-cream treatment I'd normally go for, plumping generally for thin fluids. This just works seamlessly with whatever else I use - it smooths on, gives a great base for makeup, doesn't ball or behave badly with moisturiser or makeup and basically is a hassle-free addition. Not sure yet of what extra skin benefits it's bringing, but it's nice in use.
6. I was given this at the launch of the new Touche Eclat shades in London in April and started to use it again, just cos. Then I bloody well fell truly, madly, deeply in love with it. YSL's Perfect Touch Foundation in shade 4 is AWESOME. I love it. I had used it about four years ago and had been meh about it then - now though? We're a perfect fit. Forget using the attached brush, I find it crap. I squidge a bit out, apply with fingers, blend out and hey presto, perfect cover. Would you like a full review of this, peeps?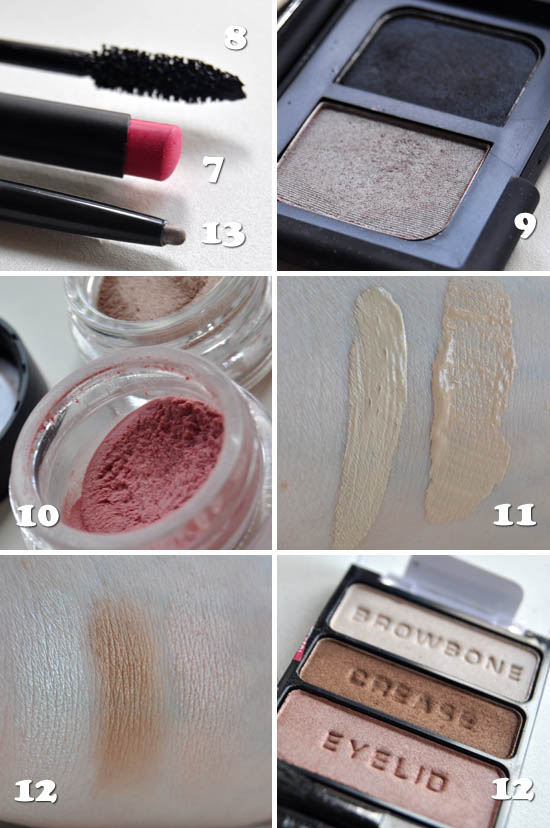 Phew, even more products!
8, 17 and 13. 8 is Make Up For Ever's Aqua Smoky Lash which is one of those much-loved cult mascaras and yes, I like it and I think it is fine. It's volumising and embiggening. But it is not, to me, anywhere as good as Lancome Hypnose Drama or L'Oreal Paris Lash Architect 4D. So there you are now.
7 is Nars' gorgeous Carthage from the current summer collection. This is oddly much more subtle in wear than it might seem and I think that's cos it's a matte. And oddly it's a lot more comfortable than most mattes and I think that's down to the formulation. I love this - a hot slag pink that lasts well and looks cool - sign me up. 13's another we've had an extended look at. It's Chanel's super subtle sparkler, Rose Palatine. This is lovely - pricey, but very very pretty used on the top or bottom lashline.
9. The gorgeous, wearable, versatile Nars Dogon duo. LOVE this so very much. The silver shade would almost remind you of Mac Club in its duo-chromeyness, and the navy has shimmer. Both are beautiful worn solo, together or with other combinations.
10. These are great bargain bits and we checked them out on Monday. From Essence's forthcoming Ballerina Backstage collection, as I mentioned, I'm all over the blusher and the copper eye souffle at the moment. For a couple of quid each, you really can't go wrong with this pair of pretties.
11. I'm working my way through a few different concealers at the moment and one I'm liking a lot is Shiseido's Natural Finish Cream Concealer. It's actually quite yellow-toned but I find that as I usually use it round my eyes that I can get away with that there - it helps take out the redness and darkness. Looks weird on the rest of my face.  You can see it swatched on the left; the right hand swatch is YSL foundation as discussed above.
Advertised
12. Last is a Wet n Wild duo that the kindly Daiseeboo picked up for me in New York. Major thanks to her for this and if you're over there at any point, get your paws on a few of these. They're only a few Dollars each and are great quality for the price. Plus, for eyeshadow eejits, they pretty much tell you how to apply. The pix show swatches and how they appear in the pan. This combo makes for a nice daytime eye but she also got me a great navy and green palette too, which is excellent for night.
So, these are a few of my (current) favourite things. Got any personal picks in there? Loathe anything? Leave me a comment and let me know!