 Are you one of those people who hate dressing up? But you can't go to a Halloween party not dressed up, right? I have some makeup solutions that will dress you up but you can still feel pretty.
I am one of those people, I hate dressing up, I feel really stupid dressed up in a banana suit or as a 'sexy' anything. So, every year, I just do some cool Halloween makeup and wear all black and that's enough to gain entry into the Halloween party.
I did all of these looks without any special effects makeup. To recreate any of these looks all you will need are these products:
MAC Blacktrack €21.00 for the black parts and
MAC Night Trail €21.00 for the blue bits
Sugar Skull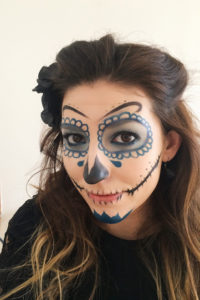 Queen of Hearts
For this look, do your regular foundation around the edges of your face first and do your usual eye makeup how you like it. You need pale foundation for the heart and brown eye liner pencil for the edging. I used Blacktrack for the little black heart.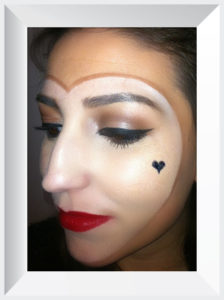 Advertised
Half skull 
Again, I did my nice makeup first and then used really pale foundation for the other half of my face. You need black eyeshadow to get the shadowy effects around the teeth and the jawline.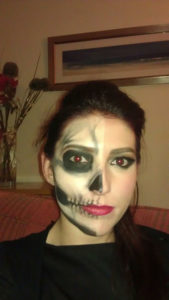 Cat 
Could you get any easier?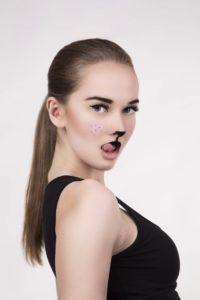 My favourite - Masquerade
I think this is gorgeous and striking. Apply your usual foundation first and then white foundation for the mask part. Use Blacktrack for the edges. Use black and grey eyeshadows to do some shading at the cracks, sides of the nose and around the edge to create a 3D effect.
Advertised
Ta-da! Pretty makeup you can have fun applying and you can rest assured that all the stares you will get will be of appreciation.