 After coming off a strict skincare routine, the Seavite Super Nutrient Soothing and Replenishing Face Cream was just what we needed
I love skincare. Like, love it.  But I've been on a seriously strict skin plan for over a year now, which means I haven't been able to play around with any shiny new stuff. Now, though, it's time to start re-maintenance and cut down on the retinol. I have to be extremely careful with the products I use on my skin, though. It has always been slightly sensitive, but I have to be especially attentive after my rigorous routine.
After a huge amount of research, I found Seavite, and this award winning face cream is exactly what I was looking for. The product is Irish, which I love, and made from natural ingredients, which I love even more. And the story is a great one. The brand was developed over a decade ago by Patrick Mulrooney who was a marine scientist and believed in the healing powers of the sea. He realised that when his children returned from seaside holidays, their eczema was dramatically improved. So he turned his scientific expertise in to "bottling the goodness of the sea".
Later, the product was reformulated by his daughters, Dr Jane and Dr Kate Mulrooney, medical doctors, with Masters' in Clinical Dermatology. Their clinical research focused on the science behind skin ageing, but they've stayed true to the brand's core values of purity and healing.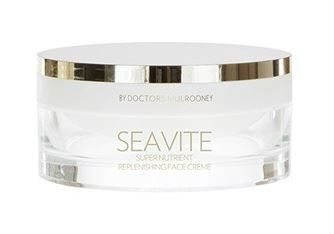 Advertised
No wonder the face cream is so good. The seaweed based product is free from fragrance, artificial colours, parabens, sodium and sulphate, mineral oil, animal derivatives and also - a must in my book - it's cruelty-free.
What I initially found with this cream is that even after the first application I could see a huge change in the coloration of my skin. It had been quite red in patches from the retinol, so I was pleasantly surprised to see that subside over night.
The entire product line, ranging in price from €16 - €60 includes cleanser, toner, a mask, face cream, anti-aging face lotion, super-nutrient anti-aging serum, anti-aging eye contour balm. They are all enriched with gorgeous products like Algolibrium, a blend of organic seaweed extracts and spring water to balance and strengthen the natural barrier function.
This is one of Ireland's little-hidden gems and very worth the investment. You can buy all products online here, or at the Mulrooney Clinic on Eglington Road, Donnybrook, Dublin 4.