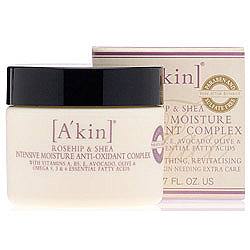 We've had plenty of tips in our winter skin savers series where we've rated and reviewed oils, creams, serums and masques  - all great for shielding skin from the elements and adding a much needed boost of hydration.
HOWEVER.
Mixing a drop of facial oil into my regular moisturiser was working well but it STILL wasn't enough for my radiator dessicated skin.  But could shea butter in a moisturiser be a bridge too far?  I was a bit doubtful when I read the list of ingredients on the side of the A'kin tub.  Shea butter is very rich and while I love it in hand cream, I was afraid it would  clog up every pore on my face.
No, thankfully it didn't.  It's great and I'm now almost down to the end of the tub. This stuff is as rich as Darphin Fibrogene - it's almost solid in the tub and needs to be applied with a light hand but for super dry skin it' s excellent.
Advertised
A powerhouse of nourishing ingredients this silky smooth rich moisturiser contains shea butter, aloe, olives and jojoba, vitamins A, B5, E & rosehip oil, omega 9, 3 & 6 essential fatty acids.
Fans of natural and organic skincare who've got very dry skin: this is all you want for Christmas
Buy from LoveLula €30*