 For the fake tan addicts out there, this cream could change the way you tan forever. It's also going to give you a more toned looking body if you use it regularly. Or so it says.
Thursday night tanning became every girl's tan ritual around the year 2000. Everyone spends Thursday night applying their fake tan to see them through the weekend, right? God, the effort, though. It's enough to make us ditch our tanning routine and embrace the pale. OR, we could start using this 2-in-1 cream game changer.
We know gradual tans have been around for years and they are so handy, but this one is kinda special. Let us tell you what we love about it. Firstly, it is a 2-in-1 cream and we love any product that saves time, money and effort. The St Tropez Gradual Tan Plus Sculpt and Glow €18.45 does all of the above, and it will both tan your body and firm your skin. Which brings me on to the second reason we love it: the firming part.
This solution contains Natural Sea Algae Extracts and Hyaluronic Acid to hydrate and tone your skin. So, with regular use (they specify four weeks) you should have a tighter bod. The third reason why we love this tan is the colour. It gives you a gorgeous, not orange, not dirty but golden-brown tan.
Advertised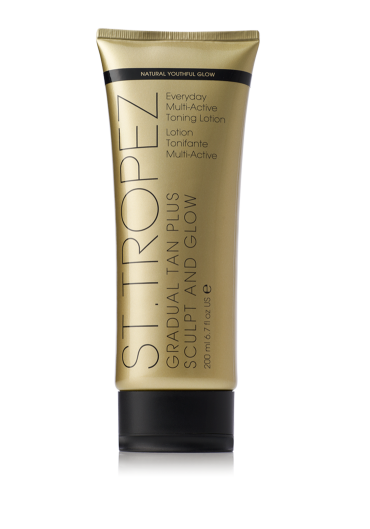 You just rub this on all over your body in circular motions as you would a body moisturiser after your shower. You can apply it as often or as seldom as you like depending on what depth of colour you are used to. If you want to be a good old shade of mahogany, apply it every day. If you are fair skinned you could just apply it twice a week to maintain a natural tan. The colour is deep enough that you will definitely have a colour after one use.
As far as tans go, this is relatively fool-proof. We say 'relatively' because with all tans you need to apply it well and evenly to avoid streaking, but this is pretty streak-free. You certainly don't need to be as careful as you would with regular developing tans. Bravo St Tropez, we approve!