 You cleanse, you tone, you moisturise, and in between, you use a serum. It's how face care works these days. Everyone's doing it. But... why?
Serum is an essential step in one's skincare routine but is one of the trickier products to describe.  The first thing to know is that serum contains a much higher concentration of ingredients than say a moisturiser or a facial oil. This means it can better target a specific skin need, like a dull complexion or fine lines.
The point of serum is to zap the potent mix of powerful ingredients right into the skin - that's why you apply it before moisturiser. (Note: there are such things as oil-based serums; these should go on after your moisturiser, to lock that product in.) A serum intensifies the strength of your routine, but because of the potency, you shouldn't just use any old product. Know what skin issues you want to take care of, but make sure to carefully choose a product that's right for your skin type. Because of its potency, serum can irritate skin, especially skin prone to sensitivity.
If your skin is dry, look for:
Vitamin E, an antioxidant that helps fight off free radicals, reducing the development of wrinkles
Glycolic acid which has light exfoliation properties to help brighten discolouration
Hyaluronic Acid, to retain moisture
Retinol, an anti-inflammatory and collagen-boosting wonder ingredient
Niacinamide aka vitamin B3 improves hyperpigmentation and improves skin-elasticity
Acne-prone skin:
Vitamin C improves hydration, defends against free-radicals (which means it's 'anti-ageing')
Retinol
Salicylic acid helps to unclog pores
Zinc, a traditional acne-prone skin ingredient, this helps to regulate oil production and cell-turnover
Team Beaut is Team Serum! Here are the serums that are part of our current real-life skincare routines.
Rebecca
I love the Hey Honey Good Morning Honey Silk facial serum. It feels natural and gentle on your skin, so I never have redness or any reaction to it. It's a good option to wear alone under makeup because it absorbs quicker than a moisturiser, and it leaves your skin silky, so makeup smooths on beautifully on, too.

Sarah
The only serum I use is the Kinvara 25hr Rosehip. It smells divine and is like a special treat for skin that's looking a little lacklustre. I recommend it to clients/models/actors all the time.
Advertised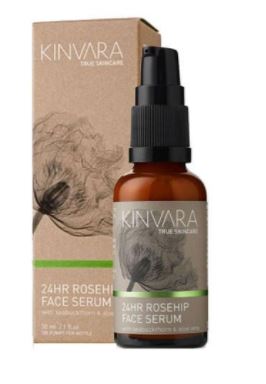 Aisling
I flit and float through serums, but the one I've most recently tried is the aptly named Divine Serum from L'Occitane. It has recently been reformulated with 10% more of its signature Immortelle Essential Oil.
It's a lightweight serum, so it doesn't leave your skin overloaded with product or feeling greasy or oily which I love. I have an oily skin type, and some serums can be too heavy for my skin and leave me with breakouts. With this, I find my skin is hydrated well when I wake up in the morning. The smell is amazing as it's enriched with essential oils (my favourite) there is nothing better than falling asleep to the sweet floral smell of your face serum. Because I'm oily, I only use it at night, but if your skin is on the drier side you can use it twice a day.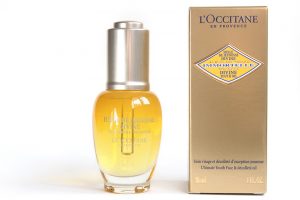 L'Occitane Immortelle Divine Youth Oil €89
Miriam
I am nearly at the end of my BareMinerals Skinlongevity Vital Power serum, which I've liked. Really liked.
The liquidy texture is nice, it soaks in fast, and it didn't cause any breakouts. All good things. The magic ingredient - the long life herb - is its selling point and the point of it is to target ageing and wrinkles. It also helps with redness and scarring. It feels like an essential part of my skincare regime. But, as I said, it is nearly all gone.
I will miss it when it's gone, but after this, I'm very excited to try the SkinCeuticals H.A. Intensifier. I'll be using it with the Vitamin C serum, and I'm not going to lie, it's very expensive, so I am expecting miracles. Watch this space.

Advertised