 SPONSORED POST
Finally, it seems the summer of 2014 is upon us. The sun might not always be shining but the temperature is way up and the furry hooded parka has been parked 'til winter. Hurrah!
If, like me, you've been living in chunky knit jumpers for the last seventeen or so months, chances are you'll open your drawer full of summery gear only to find yourself a bit bewildered. Everything feels outdated, a little shabby and while you'd love nothing more than a trip to Dundrum with a personal shopper and a grand in your pocket, you've got rent, bills and holidays to pay for, with very little left over.
So how can you update your look for summer 2014 without spending an arm and a leg? Simples.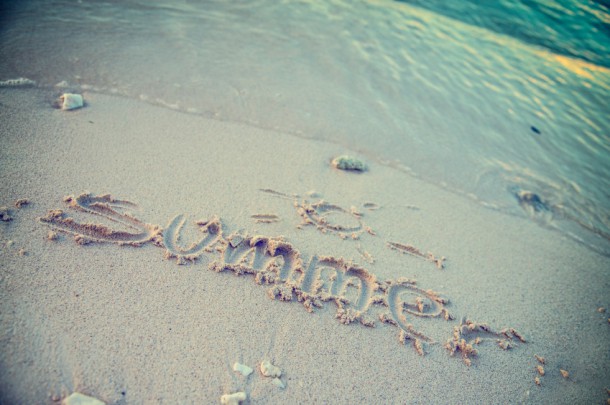 Get bronzing
Chances are, a lot of what you've been wearing throughout spring and even your key pieces from last year, will work just fine as we cross over into the more humid of months.
There's no easier way to update your look for summer whilst spending the least amount of money than opting for a good - non orangey - false tan and a plain white tee on top (have a good root in your wardrobe, you more than likely own a dozen). Get your self-tanning done right and before you know it, last summer's clothes will feel all kinds of freshened up. Try L'Oréal Paris Sublime Bronze Self-Tanning Elixir for an easy to apply option that last two whole weeks, works on face and body, and doesn't smell like wet biscuits.
Advertised
Fabulous footwear
The biggest transition from Winter/Spring into Summer is footwear. After all, it's Ireland, we'll still be donning our jeans and we'll probably keep the jumpers nearby, but at least we can put away the leather boots and step into something a little lighter.
Ireland's shoe stores are chockers full of sandals now and this year it's all about the flats. Invest in one decent pair of leather strapped flats and they'll work with almost anything.
Ditch the black eyeliner and have fun with your nails
I find it incredibly hard to part ways with my black eyeliner, even for one day. But as we've seen on countless catwalks, the trend this Summer is to experiment a little more with colour. Whether you brighten your eyes with a strong white flick or add some depth with a turquoise or cobalt blue line, this is a surefire and inexpensive way to freshen yourself up for summer.
And another virtually cost-free way to update your looks is with your nails. They're always on show and, with a mixture of neon and pastel colours, very easy to update.
Advertised
What are your favourite easy ways to update your Summer look?