 Ah, Christmas presents. A source of joy or stress - both giving and receiving - depending on how prepared you are and how many air holes are in the gift box. A tarantula? Oh, you shouldn't have. No really, get out. Really, though it's not rocket science. For those of us at Beaut.ie HQ, the best gift is always beauty related. Generally it's a beauty or skincare item that's either a little too pricey or a little too nice to justify buying for oneself.
A gift set can be lovely. I have two rules with gift sets when purchasing - everything in the box has to be wearable; why waste money on a multi-pack of lipsticks, for example, if half the colours are weird or horrid - and I have to know for sure that this gift will make the person I'm buying for feel excited and extremely lucky to receive something so utterly lovely. There's nothing worse than opening a gift from someone and thinking 'Jeez, this person doesn't know me at all... Thanks, sister, who I've known ALL MY LIFE. What the hell made you think I'd want leg warmers and blue lipstick?' Argument over Christmas dinner ensues...
This gift set from Urban Decay is a spiffing all-rounder. It contains four double-ended eye pencils - two in muted colours - brown and grey, and two in more daring colours - blue and purple. All four pencils have a regular black liner on the bottom.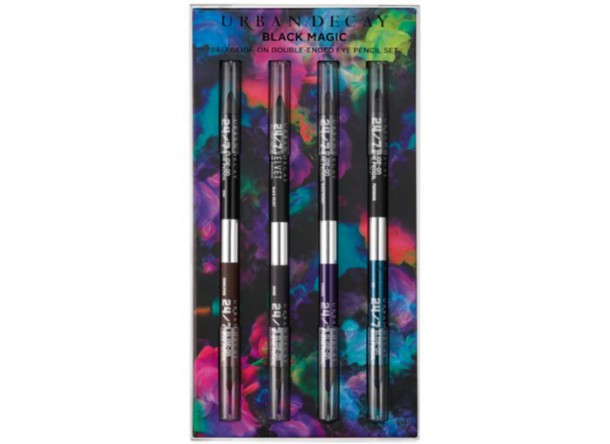 The consistency is frankly gorgeous - buttery and smooth, it gives you just enough play time to smoke it out (if you want to) before it sets. once set, it isn't going anywhere until you cleanse it off before bed. Because the texture is so nice, you can also use these for a cleaner eye look. I've been using the purple -Tornado - to do my usual everyday cat eye flick and is really gives new life to a classic eye look.
Advertised
At €33 for the set, they come out at €8.25 per pencil, and each pencil contains two colours (black and another colour) so I'd say you're getting your money's worth for this set of double-ended lovelies.
Are these on your wishlist? And do you have any absolutely woeful gift stories? Share in the comments!