 Meghan and Harry went to his cousin's wedding this weekend, and Meghan wore an extremely divisive maxi.
Meghan, Meghan, Meghan. I know you've been forced to...amend your style since becoming a duchess, but that doesn't mean you have to wear a teeny tiny hat perched on your beautiful ceann. Fascinators are not cool. And that's the end of the matter.
Despite the fact that her dress looked like a beach coverup bought for a last minute holiday, it is actually by Oscar de la Renta. The style is, in fact, very nice. The wrap style can be flattering, and the long sleeves are refreshing at a summer wedding. The dress should be wedding appropriate, but it just didn't work. The top section didn't do her any favours, and the sleeves were too long. The fascinator was just - there.
Something must have gone wrong. She spilt something on her original dress. The Queen didn't like her first choice? She really wanted to wear that white fascinator and that dress was the only one that (kind of) matched?
She's going through a major life change at the moment, and it's affecting her style. Because she has style. Judging from past photographs, it's clear to see she likes looking good and she likes dressing up. She is trying her best to fit into the role as Duchess of Sussex, and it will take her a while to settle into a style groove. But if she's given us any food for thought on this occasion, it's to accept that some styles just don't suit you.
Advertised
This is a rare style faux pas for Meghan, but it's not a total disaster. This style of dress is lovely for a wedding. With a bit of tailoring (and a different headpiece), Meghan's outfit would have been perfect. Do steal her maxi wrap tea-dress style, just make sure your dress fits. And maybe forget the fascinator.
ASOS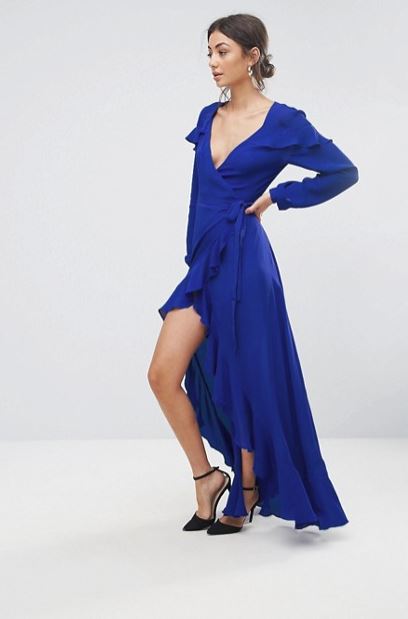 ASOS TALL Long Sleeve Wrap Maxi Tea Dress €24.89 (was €62.21)
 Littlewoods Ireland

River Island
Advertised