 If you're looking for a designer-esque bag for a fraction of the usual pricetag, ASOS has the answer.
Thanks, Elle UK, for drawing my attention to this one. You would think, after all the hours I've spent on ASOS, I'd have found this designer dupe. But my attention was on the dresses (I bought THREE this week - but all of them were under €30) not the bags, where it plainly should have been.
The designer bag under the spotlight is the Dior Saddle Bag, as seen on Carrie's arm in SATC. It's not a particularly 'classic' shape, but that's what gives it its USP. Elle calls 2018 the Year of the Saddle Bag because suddenly influencers a-plenty were tucking them under their arms for Insta photo shoots. One look at it and you'll remember all the knock-offs you'll have seen in Glitzy Bitz back in 2003 (bet you got one now).
 

View this post on Instagram

 
Advertised
Though Dior doesn't make the style anymore, there's high demand for vintage models They still cost over a grand, though, so the ASOS version will do just fine.
ASOS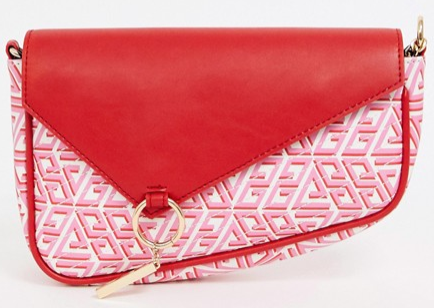 ASOS DESIGN Quilted Shoulder Asymmetric Bag in Monogram Print €27.65
The great thing about this bag is that only those in the know (that's you) will have it. It's not a tote that everyone will have some form of or a little crossbody that's cute, functional but everywhere.
See why the phone crossbody is the year's hottest micro-trend.
Advertised
I am quite taken with the red and pink shade combo, I must say. I like the gold accents, too. It is for sure a very Carrie Bradshaw bag and at just under €30 it's already in my heaving ASOS shopping basket. Will you be adding it to yours?