 So we've almost forgotten about Christmas, a time when our outfit of choice includes onesies and our snuggliest of jammies. If you made this a daily trend over the festive period, then you will be delighted to hear that the humble jammies are making their way into everyday wear. Yes, you heard right here. You can officially incorporate your PJs into your closet.
Now, this should come with a disclaimer. It might be a trend, but we're not so sure how your boss will feel about you wearing your cosies to the office every day. But, if you think you can make it work, then we have some tips to help you get the look.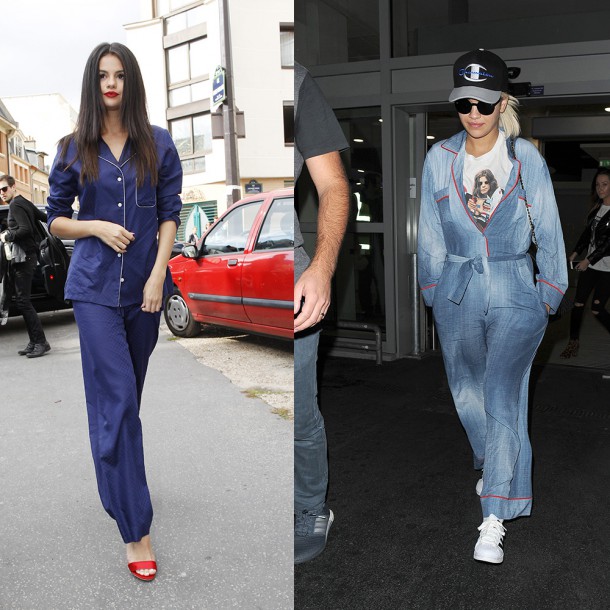 The attraction to this look has to be comfort, but, for all intents and purposes, we at Beaut HQ can't really decide if we like this look or not. Both Selena and Rita have been recently spotted in the PJ look (and Selena's wasn't anything to do with travel, she voluntarily wore this satin look out in public).
Getting the look need not be too head to toe. A top is a good way to try the trend; look for what I am calling "Dad Style" PJ tops like these two which are currently in store at M&S. With a pale blue denim, and some espadrilles or flat sandals, I think we might just get away with this over the summer.
Advertised
But then we have the more lingerie look. This one, I am not so sure about in all honestly. It's a bit naked, and perhaps only the likes of Kate Moss or Alexa Chung can get away with this. But, if you layer a slip style dress or top under a denim jacket, with nicely tapered black or navy trousers, then you can make a nice evening outfit.
Nice details like lace make the look even more bedtime-like, so you need to watch how you style these. The more lingerie looking, the more formal the rest of your outfit. So think of that as a guideline.
Advertised
It's certainly a trend that will spark a bit of a chat, and if we are going to wear our underwear as outerwear then we'll have to hope we get a decent summer!
What do you think of the trend? Practical or not so much?