 Laura Whitmore is known as one of Ireland's most stylish women. That reputation was hammered down with this glorious spring outfit.
Laura Whitmore was the host of a panel for The Body Shop the other day discussing body positivity, relationships, sex. I saw her Insta Stories and the event looked interesting but it was her outfit that captured my attention the most. She wore a dress by Rixo; it's very Rixo looking and perfect for the season. If you see a celeb wearing a pretty dress in the next couple of months, it will probably be by Rixo. Anyway, she threw a denim jacket over the dress and wore with silver pointy boots and a perfect spring outfit was formed.
Remember when Laura Whitmore was hands-down the best dressed at the NTAs?
I'm glad Laura wore silver boots instead of white, which, this year, would have been the obvious choice. They would have looked very good with the dress and jacket, too. The silver boots (by Kurt Geiger) would be a nice addition to any wardrobe and they're un-trendy enough to actually last for years.
Laura Whitmore
Advertised
I really adore the dress. I went to find it on Rixo's site and was enraptured by all the others. If you want a really, really nice dress for an occasion, Rixo could be your answer. They're pricey, but if it's for something really special, like a Christening or your wedding Day 2, it could well be worth it.
I would be so very tempted to buy those boots, too.
Kurt Geiger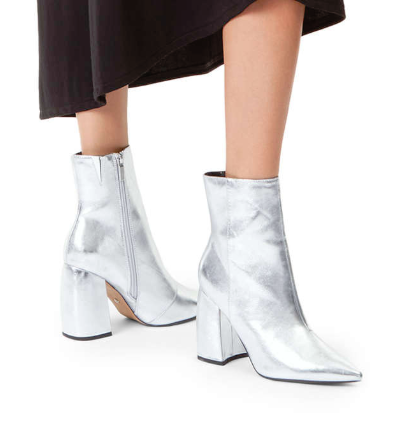 Advertised
TYRA in Kilver KG Kurt Geiger €125
Do you like the look?