 When there's an "r" in the month and a blazer of some description won't cut it as my outermost layer, I find getting a proper winter-appropriate coat a struggle. Oh sure, every year I have wishlists of the season's latest lovely cover-ups (Zara always feature heavily) but ultimately a winter coat that ticks the boxes of looking awesome, being warm (but, crucially, not too heavy or bulky) and that actually fits me properly is a rare find.
I've spent the last number of years on the hunt for a good-looking, fairly fitted duvet coat that met the criteria while being more cosy chic than Stay Puft, and then right at the tail end of 2012, two of the padded wonders found their way into my wardrobe.
And I swear to God they're both much nicer in real life than the inexplicably rotten photos their respective retailers saw fit to put on their websites.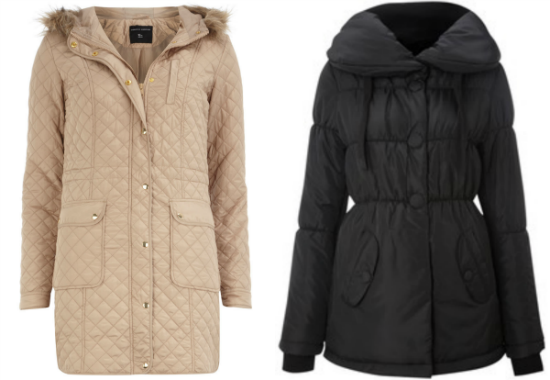 The one on the left, from Dorothy Perkins, is really slimline as it's lightly quilted rather than padded but is still the warmest coat I've ever owned – I broke it out halfway up a snow-capped Lugnaquilla the Sunday after Christmas, and it kept me toasty all the way to the top (and all the way down again.) A drawstring to the waist, which clearly isn't in action in this pic, means that it's pretty flattering as well as practical, since it can be cinched in for a bit of shape.
The LBD (little black duvet) on the right is from ONLY, and was a gift from Himself's mam. It's got a dipped hem that some genius Photochopped out here, and the gathered top section is fitted and makes it quite daytime dressy (well, as dressy as a puffy coat can ever be.) I've been tucking the elasticated cuffs up and keeping the ties for the oversize collar knotted up out of sight, but within easy reach: when flipped up and with the ties drawn, that collar makes an extremely effective earmuff when temperatures really plummet.
Advertised
Both coats fit me and their hems hit me above the knee so I'm not swamped, they're warm and, to my eye, they're more than decent looking for their category of clothing. So you'd think that I'd be only delira with them, yes?
Eh, no. While I've been getting scads of wear out of both coats and love that I've been able to dispense with my usual layering madness underneath them, I just can't shake the feeling that they look very mammy-ish or something.
Although now that I think about it, that could be because I've spent the last two winters looking at kids being dropped to the school beside our gaff by women wrapped up in their duvet coats, usually with a dog and a load of mini scooters swinging out of them.
My strategy has been to keep the bottom half of my outfit as streamlined as possible to balance out the bulkier top half, which usually equates to skinny jeans and wedge trainers. Business as usual, so. (Pairing them with Uggs, I quickly discovered, is a recipe for feeling like you just wandered out of the house wearing your bed.)
Are you a fan of the duvet coat? How do you wear yours?