 I need to get something off my chest. And when I say that I mean my chest, your chest and the whole world's chest.
Winter fashion is just around the leafy corner and there is a skeleton in its closet. We need to rid the world of this terrible plague, the plague of the polo neck.
The stifling polo neck is back in favour with the fashion lovelies. I wish it had been left out in the cold because it has no place in a civilised society and, well, it can keep itself warm. It is one of those pieces of clothing that I want to eradicate.
It flatters only a chosen few. If you have a bigger chest, it does its best to make it look like the good Lord decided to give you just the one boob, but a really huge one to make up for the reduced quantity. If you have the slightest hint of a double chin or bad posture that means you slouch, the all encompassing head funnel will blend seamlessly to your jawbone so you can't tell where chin starts and jumper stops.
And if you aren't blessed with the neck of a swan, it will make you look like your head is attached directly to your shoulders like a Munster forward rugby giant.
Advertised
In fact when it comes to gender, polo necks are equal opportunity assailants. Men should stay away at all costs unless they want to channel one the holy triad of Tom Cruise, Howard Wolowitz or Steve Jobs.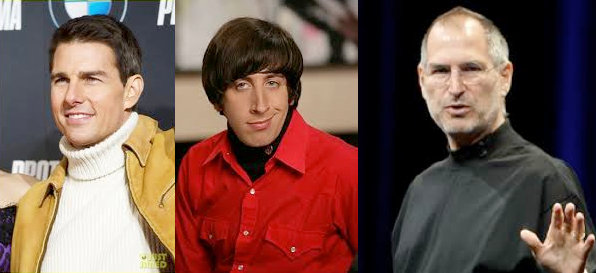 And there is more. Necklaces in winter 2013 are to be worn over the roll and if you are really down with the trend kids, you'll wear your hair tucked in to the neck and not flick it out. It's like a horrible 90s flash back that should know better.
To be fair to the turtle, if you have the gamine style of Audrey Hepburn then they will be kind to your frame. Or pair them with fluid limbs and wide legged trousers à la her namesake Katherine, and you've nailed an elegant, minimalist look.
As we age, no matter how well we may moisturise, the skin on our neck is one of the first signs to give the game away. High necks can hide the wrinkles and camouflage our sins.
And yes, they are cosy but tread carefully. Choose a chunky wide necked version to give your chin a fighting chance.
Advertised
Buy a scarf and wave goodbye. This turtle should be extinct.
What do you think of the humble polo neck? Are you delighted its cosy neckline hug is back on trend or does it alter your body shape beyond all female recognition?