 When you're going home for Christmas, you need to pack smart. It may be hard to leave your collection at home, but trust us when we say these are the only three pairs of shoes you need to pack.
Packing for your trip home for Christmas is a pain in the hoop. It doesn't matter how many days you're going for; be it three or seven, this is not like packing for a regular weekend 'back home'. Even if it is only for three days, you'll need about ten million outfit changes. If you think you don't, you're wrong. Once you see the effort some people will make, you'll feel bad that you decided to only pack PJs and onesies.
Packing for going home is a domestic task on par with cleaning the toilet. You feel satisfied when you've done a good job, but when you miss a spot, you really don't want to go back in there. Get it right the first time, though, and you'll have a truly happy Christmas. Going home and showing off is one of the great pleasures of living away from the place you grew up. You're Reese Witherspoon in Sweet Home Alabama all reinvented and stylish - but only if you bring the right shoes.
I will compile a comprehensive packing strategy closer to home time; for now, it's all about the shoes. Believe me when I say you only need three pairs which is actually not a lot in the wider scheme of things. Please note, though, that if you're into keeping up exercise during the period of overindulgence, I am not counting runners. I'm also not including wellies, so if you're from Galway or grew up on a farm, make sure you're covered in that department. Also, don't forget the slippers. Never forget the slippers.
Otherwise, the only three pairs of shoes you will need to bring home for Christmas are a pair of flats, a pair of heeled ankle boots and a pair of plain party heels. Yes, it will be hard to leave your new snakeskin knee-highs at home. Leaving behind those blingin' party shoes may also be a struggle. But, for the sake of comfort and smart outfit combinations, you'll be glad you did.
The Flats
Because I actually am from Galway, I have two pairs of Chelsea boot style wellies from Penneys. One pair is for the rare day in Dublin when it rains (because when it rains, it pours). The other pair lives at Home Home. So, the flats I'll be bringing will be dry weather flats. I'm not just being optimistic; for the past couple of years, Christmas in the West has been relatively mild and dry. Besides, I'll be home, so my daddy won't mind driving his darling daughter from our house to the local.
Your flats should go with jeans, handy black pants and black tights and skirts.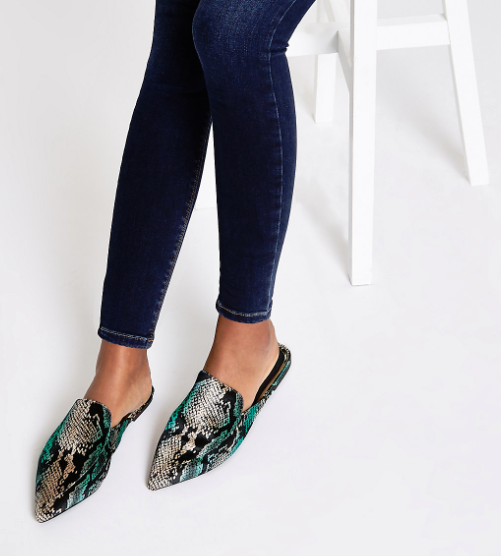 River Island Blue Snake Print Pointed Toe Backless Loafers €40
Advertised
The Boots
If you picked up a pair of this season's white boots, bring them. Otherwise, bring your trusted black pair. They're not exciting, but they'll go with everything else you bring. They can also substitute for the black courts you wore with everything, but it will casual those outfits up a bit - a good thing. They shouldn't be too high, because it's likely you'll be doing a lot of visiting in them.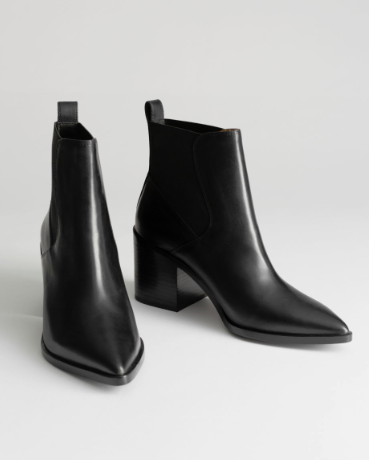 The Party Shoes
Now, your black party court shoes will do in this situation, but when you're at home and you want to impress your neighbours on Christmas Eve, your family on Christmas Day and the rest of the town on Stephen's Night, bring out the big guns. They don't have to sparkle, they don't even have to be bright, but they should go with all black everything (and jeans). Luckily, clashing is a sign of style these days, so don't worry if your shoes are leopard and your skirt snake.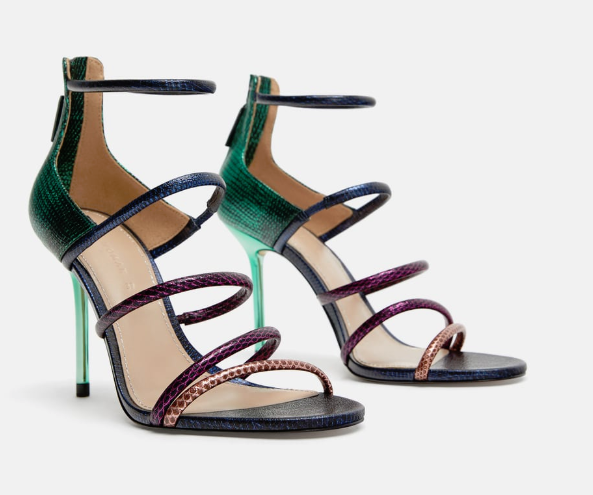 Multicoloured Straps Sandals 59.95
I'll be back soon with a guide to packing the rest of your stuff for your Christmas trip home. Would you like a separate guide for your beauty bits and bobs?
Advertised