 Trends can be a tricky one to tackle - it's all well and good taking inspiration from the cat walk and the season but really what we want is to feel well dressed leaving the house (despite how differently the term 'well dressed' can be interpreted). 
Our day-to-day lives are bombarded with the latest fashion advertisements encouraging us to invest in disposable fashion but we want to spend her money wisely on items that will see us through more than one season, let alone one night out. 
If you are the type of woman who likes to flirt with trends that spark your interest without falling into the guise of 'dedicated follower of fashion' then this article is for you. I've put together some key pieces for SS 15 that will allow you to be more 'fashion connoisseur' and less 'fashion victim'.
First in the firing line is the 70's trend that we saw all over the SS 15 catwalks. This trend can be daunting to attempt with all the proverbial boho guns blazing but by approaching it piece by piece, we can see that there are a few very wearable key pieces. 
All of the pieces shown below are easily styled individually for a day-to-day look but can also be paired together for those times when you're feeling a bit more daring (get you!). More importantly, each item is transitional and not too trend-orientated, meaning it can easily carry you from that summer glow into a winter chill.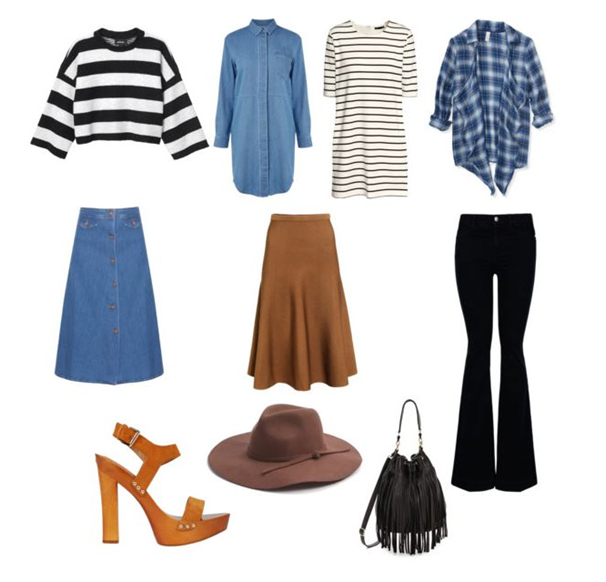 Top row, l to r: Monki Nina sweater €25, Warehouse denim shirt dress €58, H&M jersey dress €28, Aeropostale plaid kimono cardigan €23
Middle row, l to r: MIH Jeans A-line denim skirt €260, H&M rib knit skirt €56, Stella McCartney's flare €150
Advertised
Bottom row, l to r: Dsquared 70s wood clog sandals €455, Women's Phase 3 wide brim wool fedora, €53, B-Low the Belt Weekender fringe bucket bag €440
Next is the unavoidable but ever-changing floral trend. Such is the variety of this trend that, if you think the trend isn't for you, you're not looking hard enough. 
One of the key things to remember when approaching this trend is that it can be styled in textures as well as prints; this lace black jacket in flower cut allows the more cautious lady to nail this trend without moving too far from her comfort zone.
Another thing to mention is that 'floral' can still come in beautiful monochrome prints for those who like the look but not the bold palette. It is best to pair these monochrome florals with a clashing floral print or, clash the print but not the colour with another mono-floral piece. 
Last (but definitely not least) is the option to invest in a co-ord that can be worn as a daring formal two-piece (jaded looking for another wedding-appropriate dress? Don a co-ord!). They make a beautiful statement worn as a set but can also be separated and dressed in a variety of ways for many events and seasons to come...win win.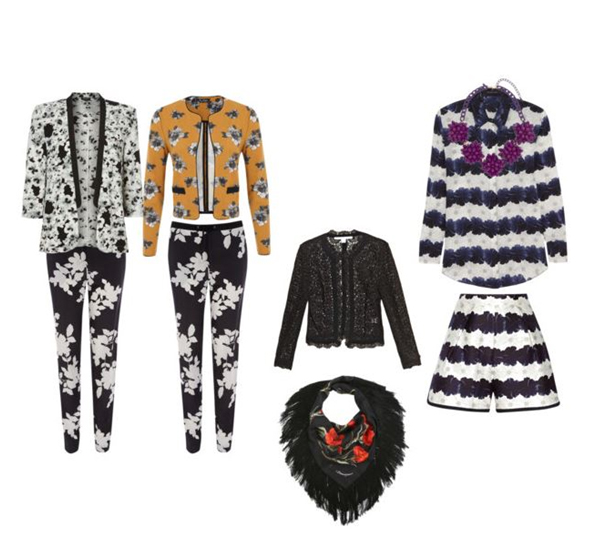 From left: Vila floral print blazer (€58) with Oasis Eleanor trousers (€53), Miss Selfridge ochre floral jacket (€31) with trousers as before, Diane Von Furstenburg Kirsten jacket (€550), Dolce & Gabbana fringed floral printed silk twill scarf (€640), Mother of Pearl Addison floral print silk shirt (€485), Topshop necklace €37($40), Mother of Pearl Addison floral print cotton and silk blend shorts (€385)
By investing in timeless key pieces such as a lace blazer, denim shift dress or Breton striped tee you can nail a trend with little effort and still have those items finding place in your wardrobe for seasons to come. Go forth and conquer the season!
Advertised
And if you'd like to check out more of what SS15 has to offer, we've oodles of suggestions and tips for you here. 
Sarah Hanrahan is an Irish fashion blogger who is the face of icomeundone.com. She is passionate about individuality and has a keen interest in writing. You can follow her on Twitter @icome_undone, on Instagram @i_come_undone and you'll find her Facebook page here.