 On a day like today, where all you want to be is in your pyjamas at home on the couch watching the rest of Black Mirror, take hope with these 'pyjama' pants
Today I took a wander around the shops on my lunch break because that's the advice I was given to combat the back-to-work blues. Literally, the advice was, take a walk, but it's the same thing, isn't it? I mean, I'm still using my legs. I hadn't had a good look at the sales 'till today (though I did have a good poke around online), but the rails of sales increased my blues instead of doing what I'd hope they'd do (the opposite). And then I slumped into H&M and right in front of me was a pair of day pyjamas that scream work.
Counterintuitive, I know. But it actually makes total sense. Some of us over the Christmas holidays had to work from home, but it was fine because we could do it from a comfy couch while eating mince pies and drinking hot chocolate and wearing our PJs. Some of you are back to work after a lovely long break just longing to be back in those jammies. PJs style clothes have been around for a while now, but people have been reluctant to wear them because they do look like pyjamas alright. But imagine the looks of envy if you turn up at work tomorrow wearing these pyjamas-that-aren't-pyjamas-if-they're-in-the-main-section-ok?
It's the satin material that makes them so PJs like. That and the wide leg style and the print. Don't they look so comfy?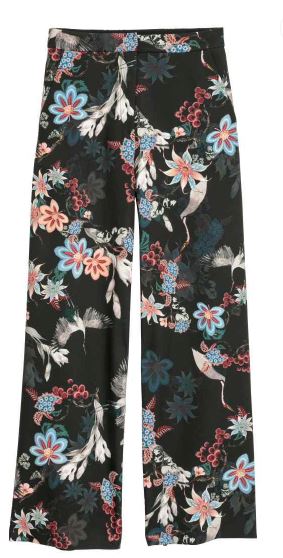 Advertised
I'd wear them with a skinny fit jumper that's comfy but takes the nightwear edge off somewhat.
If they're still too jammies-like for you, how about this shirt dress also from H&M that looks like something Rip Van Winkle might wear.