 Yes, every day is International Women's Day. But Friday, March 8th is the day we'll all be talking about how great we are. So we're wearing this €5 t-shirt to celebrate!
I have to be honest, I spied this t-shirt yesterday when I had a sneaky pop into H&M. I'm not supposed to be stepping foot in high street stores anymore because of my shopping habit - that I'm giving up for Lent. But, because yesterday was Shrove Tuesday, i.e. the day before the start of Lent when you can overindulge in all the things you're giving up, I had to have a little look. You'll be happy to know I only spent a fiver. On this t-shirt. This t-shirt that I'll be wearing on International Women's Day as a shout out to all the laydeez who slay for a living (that's you!).
H&M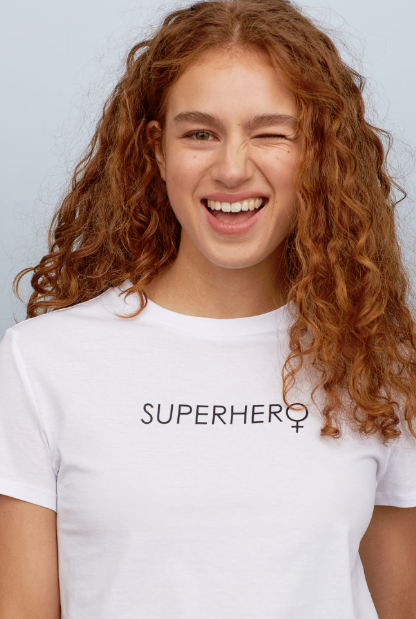 Advertised
I don't normally encourage people to wear the same thing as me on a certain day, but for this Friday, I'll make an exception. Let's all celebrate our superhero-ness! I'll be wearing mine with straight leg jeans, a blazer and maybe a pair of runners, maybe some sandals (inspired by this look). My favourite thing about this t-shirt is the simplicity in its message. The font is plain and black, but the word is powerful, not least because of the female symbol used with the O.
I'll be getting amazing value for money out of this one, too. I love a good plain(ish) white tee and will be wearing mine until it gets grey in the wash.
Are you planning on wearing your support for International Women's Day? Or is just being a woman in the world on Friday, March 8th more than enough. Do you have any plans to celebrate with your pals, gal or otherwise?