 This is the best bargain of the year so far. It's classic, stylish and only €28 - but it looks like it could have cost way more!
Walking to work this morning, despite the fact that I was wearing my coat and scarf and gloves, I felt that it could have been summer. The sky was the brightest blue; flowers were sprouting in gardens - I could even smell freshly cut grass. I arrived in work the same way I have every day this week - really sweaty and hot. It is still coat weather (and scarf and, for my badly-circulated hand, gloves), but even the weather forecasters say it's unusually mild for the time of year. This weekend is going to be glorious, in the scheme of things.
See the Zara blouse that's the It piece of spring. 
That's why I am extremely proud of the purchase I made yesterday. I spied it online and grabbed it immediately - it looks like a deal too good to be true. It's a trench coat from H&M that costs under €30. Whaaat? (While I usually urge people to leave theirs in their wardrobe until later on in the spring, this weekend might be the best opportunity to give yours a good airing.)
H&M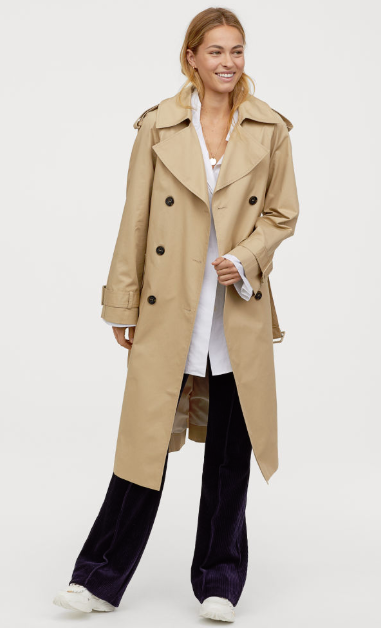 Advertised
If you haven't got a trench coat yet, this is your ideal opportunity. It looks like the perfect specimen, really, and it is SO cheap. It's the classic double-breasted style. It has detachable shoulder tabs, buttons down the front and side pockets with a decorative flap. The belt is detachable, too and it's lined. It also comes in a fetching light brown shade, if the beige is too 'everyone has it' for you.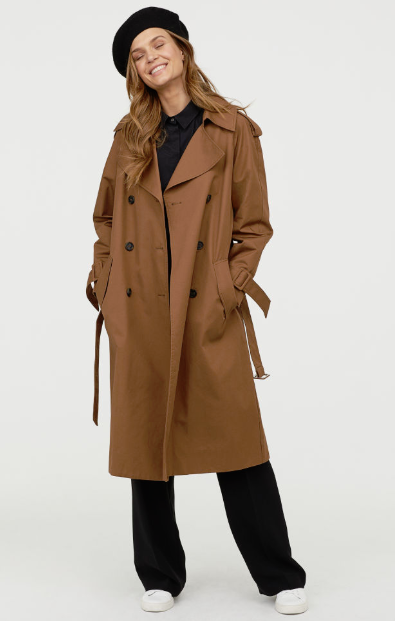 The trench is the true epitome of spring style, and it's a certified style staple. It will go with work-wear, your going-out outfits and more casual looks like the ones modelled above. At this price, there is nothing not to love.