 We are just going to go there and predict that this is the skirt that will be having a trending moment on Instagram pretty damn soon.
We've been admiring it for a while but it hasn't seemed like the right time to wear it. Until now. March is here which means it's definitely spring which means it's soon going to summer which means it's time to break out the warm-weather clothes. In Ireland, when the sun shines, you have to put on something that lets the sun know you appreciate its shining. This skirt will sing to it.
This is the skirt to buy if you're so over the silk skirt.
It's the type of piece your mother might have worn in the nineties to a family reunion. You might also recognise it from your 5th class teacher's wardrobe. She wore it on the school tour. Back then, it was somewhat sensible (despite the colour), now, it's actually cool. It's the skirt equivalent of white jeans - but you can pull it off. You just have to be hyper-aware of chocolate and red wine. Even though satin skirts are still the most popular on the planet right now, expect to see this everywhere on Instagram sometime soon.
H&M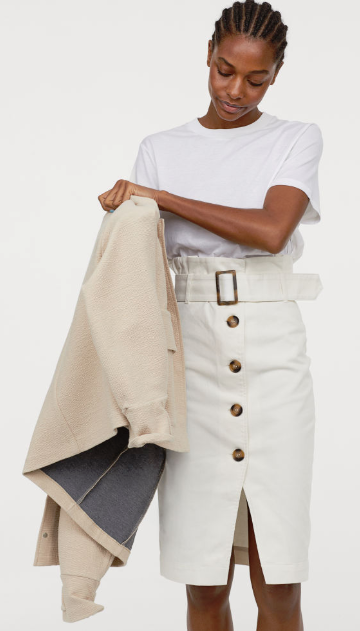 Advertised
This version from H&M is the real deal. It's made from 'sturdy cotton twill', which gives it a denim-like quality. The paper-bag waist is flattering on all shapes (yes, even those of us who are short of torso, just wear heels). The buttons down feature is so very 2019 and the belt is detachable. And, if white is just too much, it comes in a beige shade, too. And we know how popular beige is going to be this year.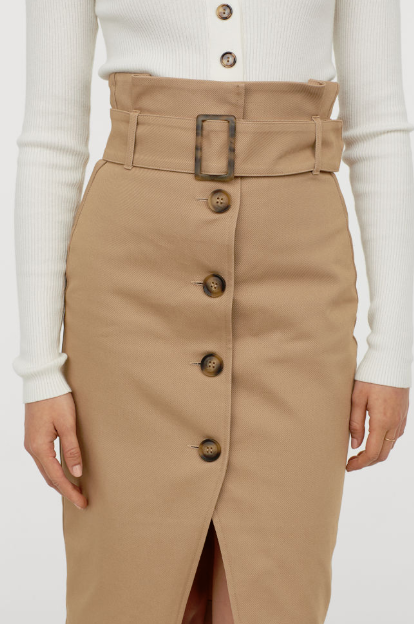 It's like a trench coat, but a skirt!
We would wear this skirt (in white) everywhere. We'd go monochromatic and wear it with a white top. White boots are still SO in this spring/summer, they'll go on our feet for a while. On holidays, we'll wear with white Birkenstocks. Just keep grubby-hand kids at least a metre away from us at all times.
Advertised
Do you like the skirt? Can you see its Instagrammability?