 This Zara Studio dress is going to be on shopping reports in magazines and your Instagram feed in no time.
Zara launched its studio collection last year, joining the ranks of the other 'elevated' high street lines I mentioned yesterday. Zara is the epitome of fast fashion; its raison d'etre is creating designer dupes at a knock-off price, available mere days after an original high-end look hits the catwalk. Zara brings a rich lifestyle to the masses - but it's facing the same backlash as every other high street store. (PS I noticed yesterday that Mango has also joined the organic, sustainable gang and the 'Committed Collection' has some gems of pieces.)
These 'conscious' collections are supposed to tell us that the high street stores are mindful now. If you want, you can pick up a few cheap tops and a nice dress and maybe a pair of boots and some earrings and wear them a few times. If you prefer, spend a little bit extra on clothing made from slightly nicer material and have that piece for much longer. That's the idea anyway. These collections are presented as more exclusive, directed at people who feel like they're environmentally informed and reasoned. They're made for us to validate our shopping experience. Sure, we're practically saving the environment!
I digress. These collections are a step in the right direction, so I shouldn't criticise. Because the price point is that much higher, I definitely will be more considerate when choosing to buy a piece from the 'slow fashion' collections. I will think about where I'll wear the piece, when and for how long. If the answer is wherever, for work or play and all the time, I'm in. Somewhat surprisingly, this dress is one of those pieces.
Advertised
Zara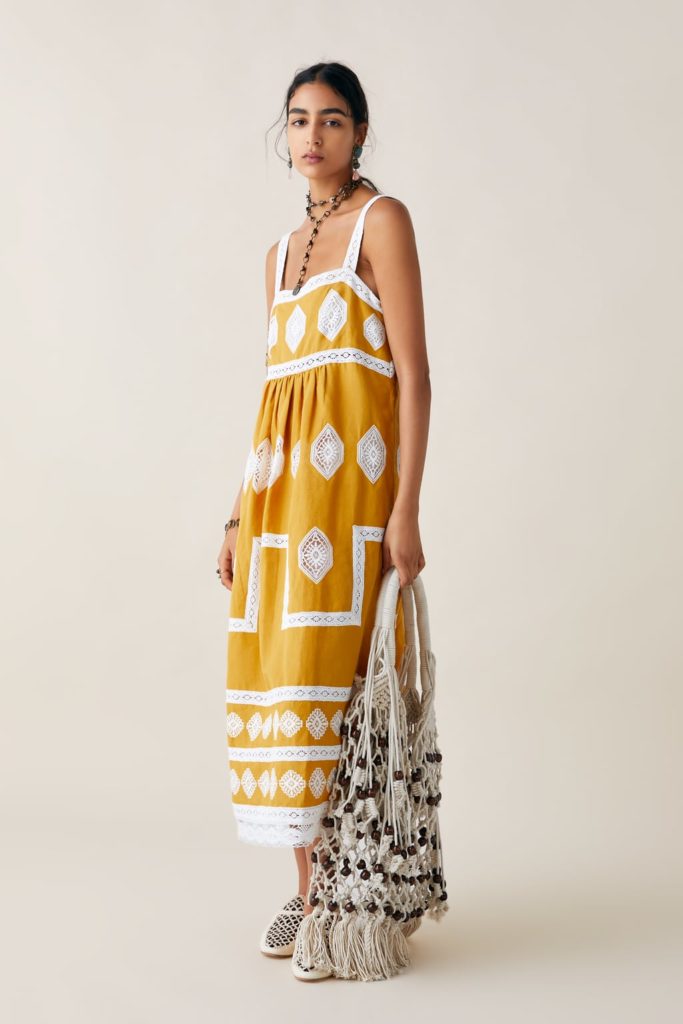 Limited Edition Zara Studio Embroidered Dress €99.95
It's THE summer dress. Made from a linen/cotton mix, with that rustic shade of yellow and embroidery; it's not a trend piece, so it won't go out of style. You will wear this on every holiday for years, but you'll also wear it for summer events at home. It can be casual (wear it on the beach!) or it can be dressed up (wear it to a garden party). Its simple shape makes it easy to wear - it will look good on all shapes and sizes - and styling is a non-issue. It doesn't need accessorizing, all you need is good shoes to match.
I envision this dress being on every summer shopping guide and on so many Instagram posts over the next few months. Can you see it happening?