 Mineral makeup has come a long way. A mineral makeup starter kit is a cheap way to get yourself reacquainted with modern mineral makeup.
When you think of mineral makeup do you think of loose mineral powder? While a loose powder is a popular form of mineral makeup, there is so much more on offer from the world of minerals now. Mineral makeup is a no-brainer for anyone who suffers with dry or problem skin.
Mineral makeup tends to have way fewer ingredients than other makeups. The powders will have less talc and parabens and sulfates than standard makeups have. Basically, they have less or none of the ingredients in makeup that can clog your pores and irritate your skin.
Mineral makeup will give your skin some protection from environmental factors but it lets your skin breathe at the same time. They are made from ingredients like titanium dioxide, zinc oxide and mica that are found in nature. A starter set is a cheap way to start of using mineral products. You can try them out and I bet you will find they apply like a dream and will give your usual favourites a run for their money.
Bellapierre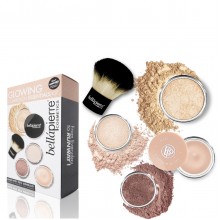 Glowing Complexion Essential Kit €59
The Glowing Complexion Kit from Bellapierre is a great way to introduce yourself to the range. This kit contains a loose powder foundation, your bronzer, highlighter, makeup primer base and a brush for applying it. These mineral products contain only four good-for-your-skin ingredients and no other rubbish. I particularly love the loose powder highlighter; it suits all fair to medium skin tones. If you love a cream foundation they have a full coverage cream stick foundation in the range. The brushes are gorgeous too.
Advertised
Fuschia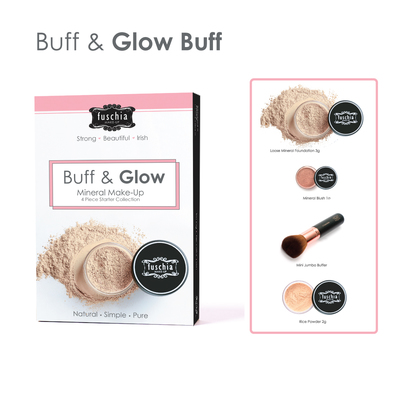 Buff & Glow Mineral Makeup €39.95
Fuschia does a lovely starter set too. It has your typical loose powder mineral products: loose powder mineral foundation, blusher and rice setting powder. If you prefer a liquid foundation, they have one called the HD foundation which gives a gorgeous natural coverage on your skin. This kit comes in six different shade ranges to suit all skin tones.
Jane Iredale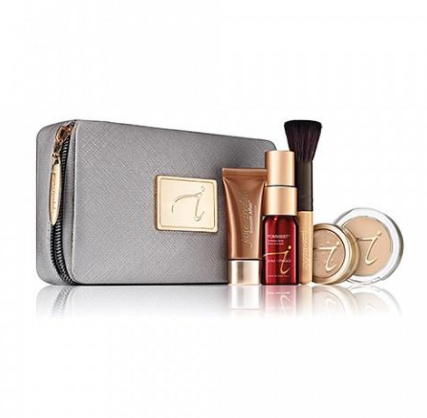 Advertised
Jane Iredale is skincare makeup. This makeup is so good for your skin you can practically sleep in it. We don't actually recommend sleeping in it but there is no bad stuff in this makeup. I started using this kit when my skin was really dry and flaky and I saw a difference in a week of wearing it. All the dryness cleared up and my skin was positively glowing. Again, if you want something with a cream texture and great coverage they have a full coverage BB cream. The kit contains Pommist which you can use to spritz your skin before and after applying your makeup. It has the loose foundation and the pressed foundation so you can see which you prefer. Also ,the lovely brightening primer is included and a brush perfect for applying the powders.
Do you think you could be converted to wearing mineral makeup?