 We hate going over and over our lashes to get a thick coating of mascara. This mascara has a specially adapted wand to apply loads of the black stuff in one coat.
We have found a mascara that is only €10.99 but it's got the mascara X factor. You will be able to coat every lash from the inner to the outer corner with easy control of the wand.  The brush has a shorter head than usual which makes for a more precise application with less mistakes.
The best part for us is the curled brush - the magic behind the volume. The idea is that the curve in the brush picks up a large amount of product at the core of the brush. Great brush loading means loads of product applied to the lashes. Max Factor advise that you apply lots of product at the root of the lashes to give you maximum curl.
Max Factor 2000 Calorie Curl Addict Mascara €10.99
Advertised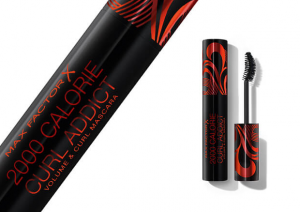 In search of the perfect mascara, we look for a lot of boxes to be ticked. This mascara is right up there and fills most of the criteria. Loads of volume, controlled and precise application, great brush and a lovely curl to your eyelashes. What's more, it is formulated with the right balance of waxes for easy removal. Mascara on our pillowcases is a pet hate of mine, so a mascara that removes easily without pulling out lashes is a bonus.
What do you look for in a great mascara?