 Bling, Bling. Bling, Bling. That's the sound of sparkly things calling! Oh, I get very excited about summer when it comes to jewellery. Whether you wear a plain white t-shirt, or a full on formal gown, you can jazz it all up with some jewels. And I don't mean real ones. Oh no, our high street favourites have us covered when it comes to getting the right mix of accessories for the season.
Now not everyone likes to load on the bracelets and bangles, and that's just fine, as the delicate side of accessorising is a mega trend around now, and in the build up to festival season too. Coachella is just around the corner which is always a great time to seek out new jewellery trends as well as how to wear them. 
My most important advice is not to overload yourself. A statement necklace can be heavy and if you add in the matching earrings, you'll feel like you are lifting weights. One statement piece is enough, so make the decision in advance which item that's going to be.
Since I cut my hair, I love big earrings. I think I can see them more with my bob. But with my earring choice, it does mean I have to lay off the chains around my neck. So my accessory choice this year is earrings. I'll probably change my mind, but for now, I'll don those dropping jewels on my ears.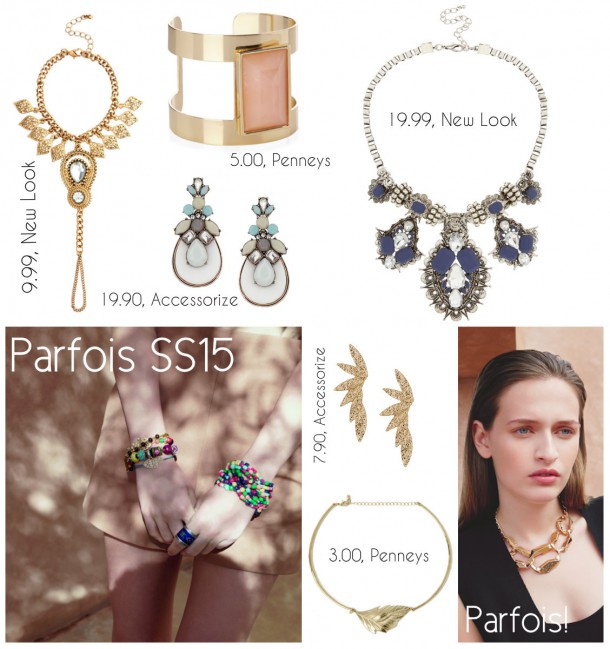 Advertised
One thing I love about going on summer holidays is the abundance of jewellery I tend to pack. It definitely makes up for a good portion of my baggage weight. But it's fun.
This year, I want to up the ante on my accessories and I'll be packing lot's of coloured statement earrings to pick out the colours in my various outfits, including swimwear! Accessorize is the place to go at the moment for these and the blue tones in their collections this year are pared back and elegant.
Gold is another seasonal favourite and everyone from Parfois to Penneys are jumping on this trend. I am obsessed with Parfois' chain necklace (€12.95) which works with a v-neckline or on the seam of a top. If you want to go all out, New Look's oversize long necklaces are incredibly eye catching and incredibly affordable too. If you want to style something more minimal, Accessorize and Penneys are channelling leaf motifs which are so pretty and dainty. Don't be afraid to layer these pieces either! 
You don't have to spend a fortune to fulfil your accessories needs this year! Have you got a favourite piece you've spotted this season so far? Was it a bargain?