 Realistically if a professional makeup artist applies your makeup the morning of your wedding, it should still be on you the next morning when you wake up.
Believe it or not you probably won't spend much time touching up your makeup on your wedding day. You will be too busy entertaining and mingling with your guests to worry about it. However, there are a couple of things even the best makeup artist can't prevent happening so it's best to carry a tiny touch up kit to make sure you look perfect all day long.
We have three products that should fit in your clutch bag and see you through the whole day and night. First of all, you will need your lipstick and lip pencil. Unfortunately there is no way to ensure lipstick stays put all day even if you use a primer. Primer will certainly keep it in place for longer but eventually it will need a touch up. You can see our favourite wedding lip combination here.
For complexion touch ups all you need is a great foundation powder. It will get rid of unwanted shine and re-set your foundation but unlike a translucent powder it will also give you coverage. That means if you have an emotional moment and tears are shed, you can fix your makeup quickly using just your powder and a sponge.
We recommend Kat Von D Lock-It powder foundation €34.50. It will have your skin looking picture perfect in seconds. This powder is long wearing for 24 hours. It leaves your skin smooth and doesn't look cakey when applied with the sponge.
Advertised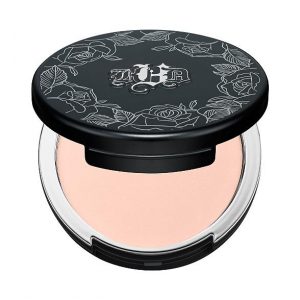 How often would you touch up your makeup on a usual night out? Do you think you would have enough in these three products for your wedding day?