 Behind every successful woman is good tailoring - isn't that how the saying goes? There's something to be said for a great suit. These stylish suits will make you look and feel like the powerhouse you are - all for under €150.
Smart suits from Topshop - €110
There are two suits that are options here from Topshop. Firstly, this green suit is a bold colour choice but very on trend. The unique shade of green fits in perfectly with the colour palette of Spring/Summer 2019. The key is to keep the accessories neutral when trying out a colour like this. Some white pointed-toe boots or nude sling-back heels would go very well with this option.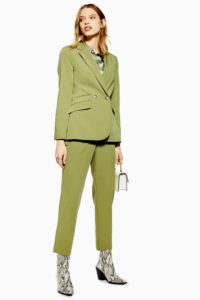 The second option from Topshop is a warm rust colour, the style is very similar to the first suit but this jacket is double-breasted. White wears very well with a bright block colour like this one, so try out different combinations of neutrals to see what works best for you.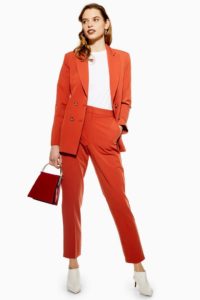 Black Tuxedo Style Suit from Zara - €99.90
Everyone needs a great black suit in their wardrobe. Black is versatile, strong and classic. This tuxedo style suit from Zara is a winner, with its sleek detail on the trousers and the statement contrast collar. You can always pair it with a colourful shoe or handbag to add your own individual style. Try wearing it with minimal jewellery to let it shine.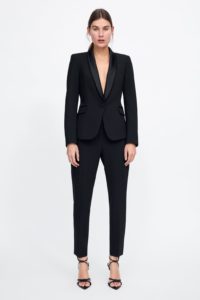 Bright Red Caped Suit from Zara - €99.90
Advertised
There is something about the caped jacket that always looks classy. This beautiful red ensemble is a statement choice that is sure to stand out from the crowd. The wide leg culottes complement the shape that the caped jacket creates. This look is super chic and, if you are a fan of the cape trend, it is perfect for you. Go with black shoes and handbag for a slick finished look.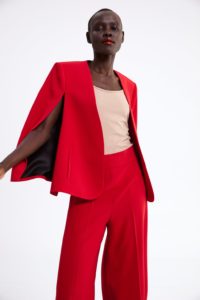 Colourful Sage Suit from Asos - €113.37
Another interesting colour choice that fits right in with 2019 Spring trend is this beautiful sage coloured suit from Asos. The double-breasted jacket is strong and sharp with clean-cut lines. The slim trousers will pair well with heels or loafers. Keep the shoes neutral or splash out with another bright colour and see what happens.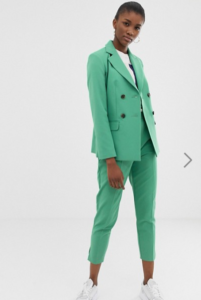 Bright White Emma Willis Suit from Next €130
All white everything is sure to turn heads while keeping things very simple. This elegant suit is part of the Emma Willis collection from Next. The mid-rise wide leg trousers give a more relaxed element to the overall outfit while still being sophisticated. The jacket is long-lined and has a flattering neckline. You can add your own colour to it with accessories or keep everything white.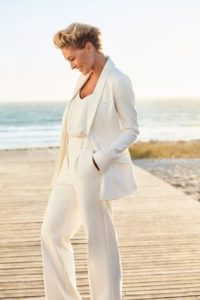 Advertised
All of these suits are head-turning, powerhouse options that you can add your own style to. Which of these is your fave? Are you bold and colourful or classic and neutral?