 These €20 leggings from Zara are the leggings for people who hate leggings. And they're stylish to boot.
As you know, leggings are tights-like pants you wear when working out or feeling lazy, in the style sense of the word. Don't get me wrong; I'm a leggings fan. It's just that they're easy to rely on when you're not in the mood to put an outfit together. For days like those, I throw on a massive jumper and some heeled boots and I'm suddenly Kourtney Kardashian. Some people, though, hate the heart of the athleisure trend. And that's where these €20 leggings from Zara come in.
They remind me of the first pair of 'flares' I had as a teenager. Anyone who was in secondary school in the late '90s / early naughties will remember the trend. They were sometimes stretchy, had to be black, and had to flare perfectly over your runner or platform school shoe. The updated version from Zara has a similar look but they have a defining feature - the front slit.
In 2019, a micro micro trend is the front slit. You will see it on all pants-types, from jeans to cropped work trousers. And on these leggings. In this case, they have a zip doing the slitting so you can un-slit if you want. We say don't bother. These leggings aren't for leisure in the sporty sense. We'll be wearing ours exactly like this.
Advertised
Zara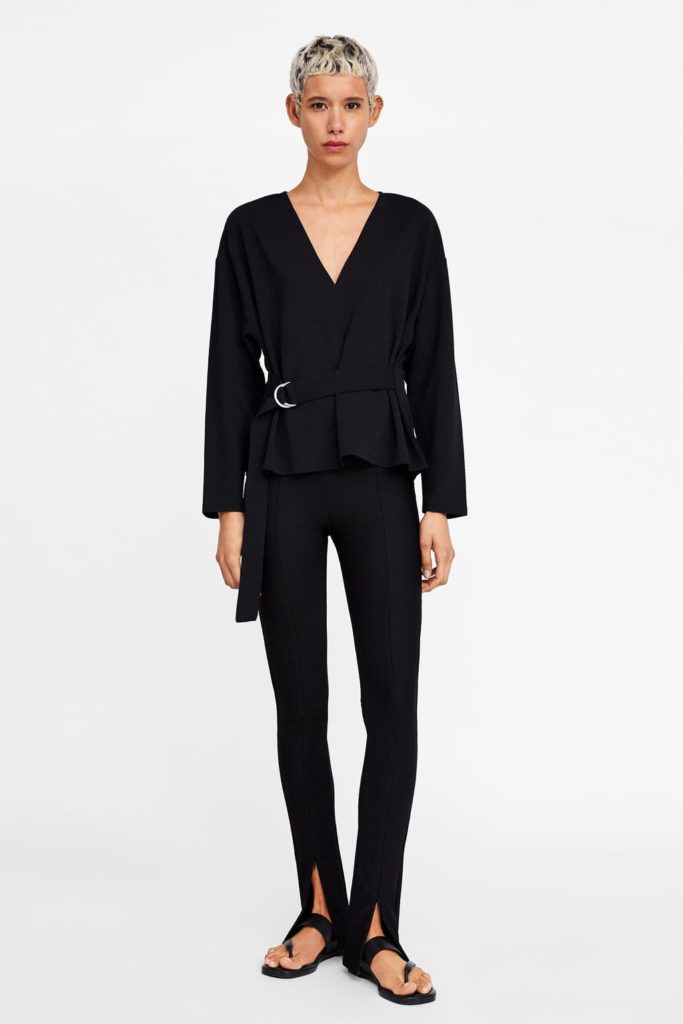 Can't you imagine a cafe full of yummy mummies (without the actual children, of course, because they'll be with the nanny) wearing something like this? You could get away with these on Casual Friday. We are thinking they could look cool with strappy sandals for cocktail night in the summer. They are definitely handy for hanging about the house as well; if visitors call in this situation, you will appear to be the type of person who is always guest-ready, thanks to your impeccable wardrobe. When your about-the-house clothes are this chic...
Do you think the front zip trend will catch on?