 This M&S It Dress has the potential to cover every occasion this autumn.
Marks and Spencer are developing a reputation for creating the 'dress of the season'. The professional woman's handy work things haven has discovered a talent for creating key pieces. The M&S It Dress is becoming a trend in itself, hotly anticipated and selling out because of the hype.
I try not to get caught up in the latest 'thing'. I watched one episode of Love Island hungover on my friend's couch and managed not to get sucked in. Cold shoulder tops never infiltrated my wardrobe. Fur-lined loafers? They'll always be ugly shoes to me. But I can't help wonder, with the arrival of each season, what dress they'll decide is the M&S It Dress du jour. You won't forget the constellation dress, of course. And the embroidered black-based mesh dress that they released again this summer given its popularity.
The dress that is appearing on all my social media channels is the Star Print Half Sleeve Swing Midi Dress. Like the previous M&S It Dresses, it's versatile. The star print is tiny, and look like it could be polka dots from a distance. The half-sleeves have a nice ruching detail, and it's gathered at the waist, meaning this is a dress that suits all shapes and sizes. My favourite thing about the dress, though, is the red stripe that runs down the side. It adds an element of cool and transforms the dress from a fairly standard day dress to something you can wear to all occasions all autumn long. 
M&S Collection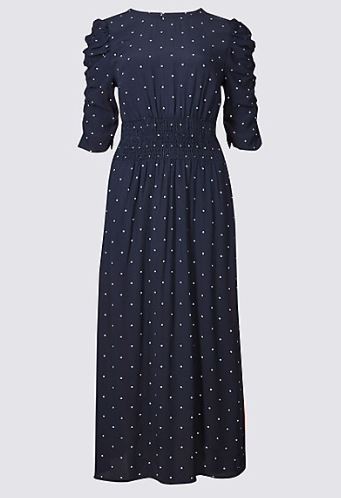 Advertised
Star Print Half Sleeve Swing Midi Dress €54
It follows the same flattering formula as a leopard print dress people went wild for a couple of months ago, and if it sells out, there's another similar style with a floral print and white base colour.
Do you like it? Can you see its potential? Would you be afraid to wear it in case every second person also has it on?