 M&S has found itself in a niche. It has developed a reputation for producing very nice dresses indeed.
M&S is on to a good thing. Or a good designer, marketer or style team in general. They remain the place to go for work clothes and sensible things but they are branching out to the cooler side (thanks, Alexa Chung). Holly Willoughby is on to her fourth collaboration with the UK high street favourite (see the first look here). But regardless of the celebrity associations, it's bringing out really good dresses that everyone can wear. And I mean everyone.
See the Zara blouse that's suddenly the It piece of spring. 
This dress would look as good on a teenager as a woman in her sixties. It suits all shapes and sizes, in fact, it flatters them all. The sleeves are one of its finest points. The shape is not only stylish, but it also covers the upper arm if that's an area where you feel self-conscious. The little slit stops it from becoming too Laura Ashley c. 1993.
It's one of those versatile pieces we love so much, too. Can't you see it on that stylish lady at work, but also on that other stylish lady across the room at brunch? You could wear it to a Christening; you could wear it to drinks in your friend's house (followed by drinks in a wine bar or the local).
M&S
Advertised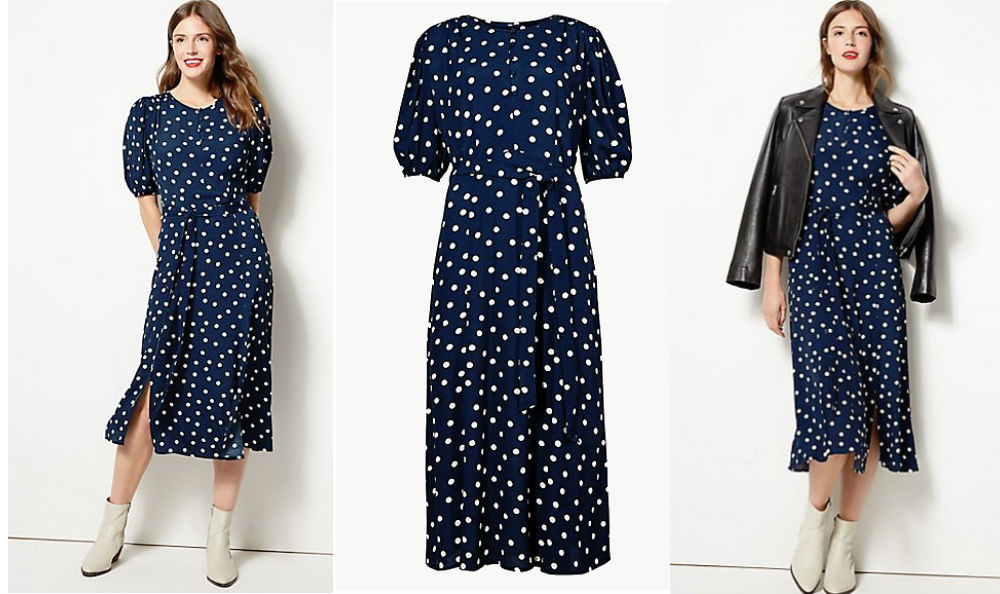 M&S COLLECTION Spotted Half Sleeve Tea Midi Dress €54
We like how M&S has styled it with those white ankle boots - for spring, we'd do the same. When it gets a bit warmer, we'll wear with tan sandals. For fancier occasions, we'd wear with silver or bright pink strappy sandals.
The leather jacket is always a good throw-on, but how good would a classic trench look with this, too?
How would you style yours? Or have you had it with tea dresses?