 Ok, so we need to go back in time a bit. Remember when the Beckhams moved to America? Well David taking a contract with LA Galaxy was not really the biggest news. Oh no, it was Victoria's short hair cut, and the array of Roland Mouret Galaxy dresses (yes, it is some coincidence that the dress has the same name).
The style evolution of VB is fascinating. From Spice, to WAG to top designer. She has certainly embraced an array of trends over the years. But it's her early LA days that have come back to visit us.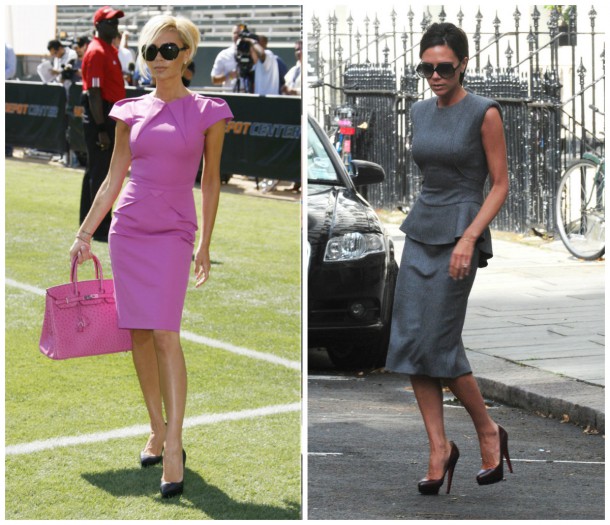 Oh yes, the structured dress has returned. For office wear, the shape is incredibly form fitting. The length is modest and perfect for a high heel. And the peplum? Well, the peplum is what I like to call, forgiving and apologetic at the same time.
VB's designer dresses, however, need not be, the be all and end all. There is a perfect copy floating about that will only set you back €49. See, the early naughties brilliant Beckham dress need not cost a fortune. 
Advertised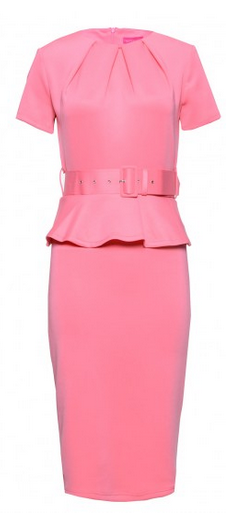 The pastel pink is certainly on trend for spring, and if you like the shape and shade combination, then it's definitely worth considering for your 2015 wedding season. With such a sweet shade, how you style the look is of paramount importance.
The accessories need to be pared back, and that includes your shoe choice. Nude or taupe shoes are the way to go to keep the lower half of your body more muted. The emphasis is on the top half here with the waist details and pleated high neck. And this really applies to all dresses of a similar shape and style. Sadly, the dress is not available in any other colours, but peplums are a-plenty in dresses and in tops. 
The VB look-a-like dress is from iclothing and is €49. But tell us, what did you think of VB's early style? Did she nail it then, or is she making strides now? Whatever the world says, she was always my favourite Spice Girl.