 Jennifer Lawrence is the all round girl crush really isn't she? She's funny, she's very good at her job and on the red carpet and just hangin' around she always looks good.
What she just best is the "less is more" look. We only have to see her rocking a black cut out dress at last weekend's Comic Con styled with her long beachy waves. Her stylist does a very good job of "under" styling her.
On the red carpet, she is a fan of, well, red which she has worn numerous times to the Oscars. But white is another one of her all time favourites, as well as shift dresses and oversize sweaters. Actually, the more I am writing this, the more I want to copy her!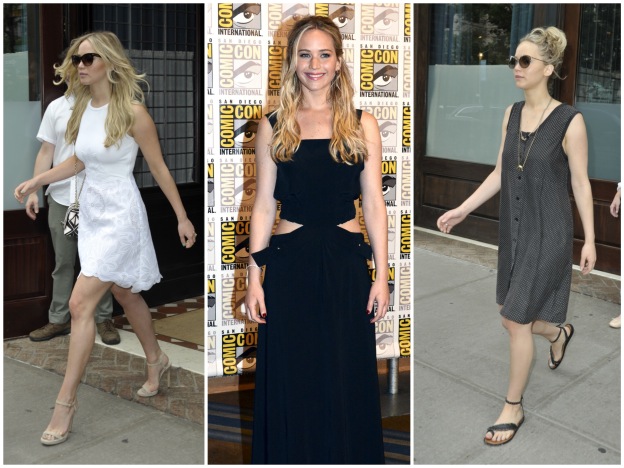 So how can we get J-Law's easy going look? Well actually, we have a lot to choose from.
Advertised
A white dress is not always the easiest to wear, so I recommend wearing it with another colour. Or for Autumn Winter try a leather jacket. Speaking of leather, one of the great pieces to hit M&S this season will be this amazing leather panel dress; I think it updates Jennifer's look from summery to wintery and it's a nice long length too, tapping into that midi trend once again.
Jen loves a little black dress, and for this transition time of the year when it's not exactly that cold, you can opt for cotton. New Look have some lovely occasion wear made from light fabrics this year which are really affordable as well. I like this strapless black dress that has a cross over at the hips to add shape. Try adding a belt around this to add definition and a little detail.
What do you think of Jen's style? Does she do the red carpet well? Have you a favourite look of hers?