 Pippa O'Connor posted this picture last week, and we can't believe we missed it. We need this in our wardrobe STAT.
She's a constant source of style inspiration for the women of Ireland and for good reason. Every high street piece she picks as a fave is going to be good. A couple of weeks ago, Pippa O'Connor wore this shirt that we adore. A while before that, she convinced us that this controversial shade is indeed a good idea.
Last week, Pippa O'Connor posted this image of herself just casually sitting on the side of the road as you do, wearing this trench coat from River Island. Want it. Now.
It's made from a suede fabric, which in itself is a nice departure from your traditional trench coat. The fact that it has that check print on the outside (as opposed from the classic Burberry print that features on the inside) gives it an unexpected and slightly cheeky feature that sets it out from the crowd. The tie-waist is a welcome addition because it gives you control.
Advertised
(As an aside, if you prefer the look of the time-honoured beige, we found one in New Look, and it's only €28.)
River Island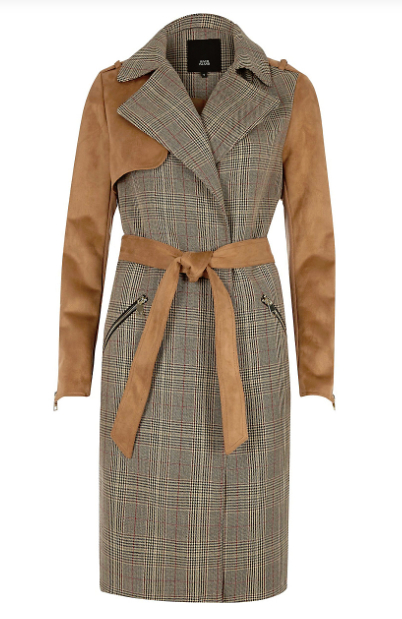 Light Brown Check Suedette Trench Coat €113
If you're looking for a new coat that will get you all the compliments, this is it. Because it's over the €100 mark, you might be worried about investing in something that may not be classic enough to stand the test of time. But if you need convincing, think of it this way; the crazy weather we're having will mean you'll probably be able to wear this well into summer and in autumn, too. The cost per wear is looking good.
Advertised
Do you like the coat? Has Pippa convinced you?