 Few could pull off a jumper and skirt combination on their WEDDING day quite like NYC style aficionado, Olivia Palermo. Rising to fame as Whitney's villainous co-worker on The City a good few years ago now, Miss Palermo went on to carve out a name for herself as a fashionable force to be reckoned with.
From head to toe, this woman almost never gets it wrong and has thus become a style icon for many. But how do we feel about her big day's ensemble? Were you expecting more? Is it a little too casual for such an affair?
It's certainly different, that's for sure. And the combination of textures is playful enough to show a bit of personality.
This isn't your average white geansaí from Penneys, mind. It's a three piece ensemble from revered designer Carolina Herrera. The skirt is simply layered tull (with some necessary shorts underneath) while the top is cashmere - not the most common of fabrics to feature where brides are concerned. But it's Olivia's party and she can cry or wear fluffy things if she wants to, right?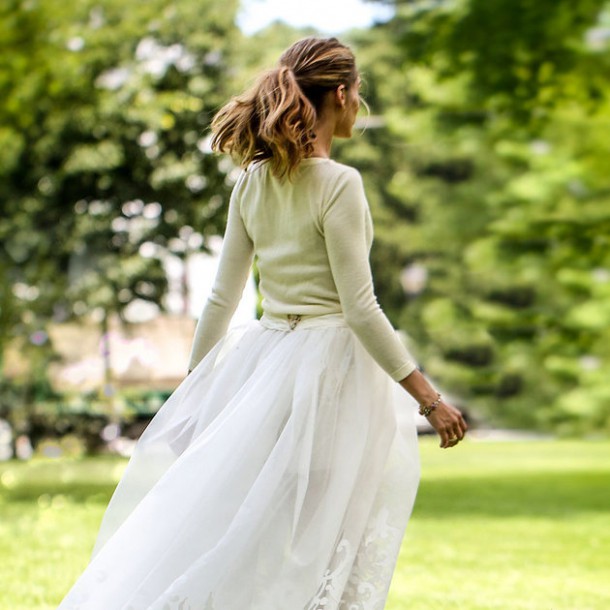 Advertised
What we love about Olivia's look is that she looks relaxed and comfortable. Too often we see brides squishing themselves into uncomfortable shapes, unable to dance freely in their mermaid-esque gowns and yanking at their strapless bodices for fear the whole thing may fall down. With an outfit as easy to wear as this, you can focus on actually enjoying yourself. Which is the whole point after all.
Completing her look with a fuss-free up-do (well we say up-do, it's really just a pony tail) and eye-catching midnight blue heels, Olivia clearly has more important things on her mind than wearing the wedding dress of the century: marrying her TV star fella, Johannes Huebl. Nawww.

So, are you a fan of this more relaxed alternative to your standard bridal gown? Would you consider playing with cashmere on your big day?
All images courtesy of http://www.oliviapalermo.com
Advertised