 I'm a little bit tired, my feet are not speaking to me  (I subjected them to unnecessary pain), my suitcase has seen better days (I managed to check in a 30kg bag unbeknownst to the Aer Lingus ground staff), and today I find myself on yet another plane.
But despite the tiredness and travel, London Fashion Week Spring Summer 2015 was a whopper of a few days. The standard was high, elegance has returned and even the posers outside Somerset House (who loiter in the hope of getting papped due to extreme versions of street style) were more casual than normal.
LFW has regained its focused on what comes down the catwalk rather than who is hanging around outside it. In the three days I attended, I covered twelve shows, four exquisite presentations and three sartorial parties. Rather than subject to you next season trends when this one has not really begun, I have put together my top moments along with a few pictures I took along the way (in case you didn't see them on Twitter).
Cara walking at Topshop Unique
I've seen the Delevingne in person on several occasions, and each time she never fails me. Flawless skin, a cheeky grin but most notably, one amazing model. At Topshop Unique (which was also awash with celebs, more of that later) she opened the collection wearing (and closed with) pieces that highlighted the two key trends which Topshop Unique will focus on next year.
Sadly, the Unique collection is not available in store in Ireland, but can be ordered online (beware it's a lot more expensive than the regular Topshop collections). Susie Menkes of vogue.com gave her approval and if Anna Wintour was sitting front row, then you know she is paying attention. Cara, despite her partying ways and hilarious antics, is certainly good at her job. She commands attention and this time was one to remember.
Here we go round the Mulberry bush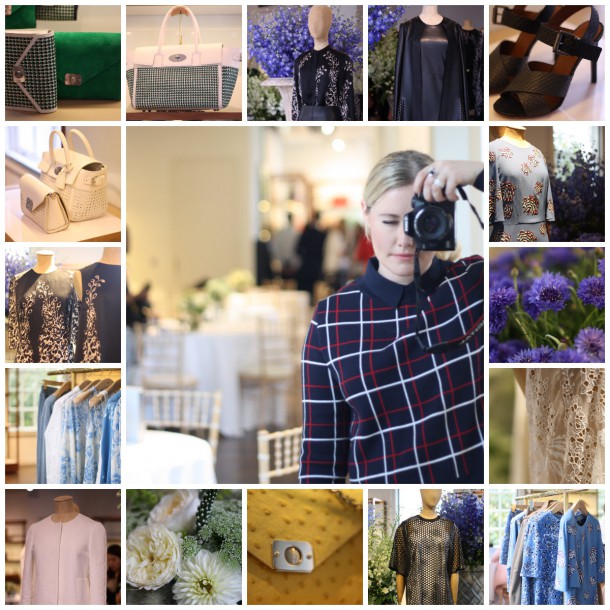 If I ever get a Mulberry bag, I am going to call it my Mul-baby. Because I would treat it with the TLC that only a baby can command, sing lullabies to it so it stays calm, and take it everywhere for the world to witness my love.
One of my career highlights was being invited to attend the Mulberry presentation at their magnificent HQ in Kensington on Sunday morning. Press officer Maddie Whitney guided me around the new collections of bags, which include a reversible moc-croc leather shoulder bag, a basket weave tote in black and green, and an array of black textured leather shoes.
The clothing range is inspired by the cornflower, and so the showroom was adorned with floral displays to immerse you in the world of all things Mulberry . Maddie told me they have introduced leather for the first time to their clothing, a natural choice considering they are a leather goods brand. Embossed lace dresses, summer blue numbers with sequin embellishment and elegant prints in dusky blue and barely black commanded my attention wishing I had the budget for it all.
We may all love a bit of the trendy stuff, but nothing beats timeless sophistication.
Advertised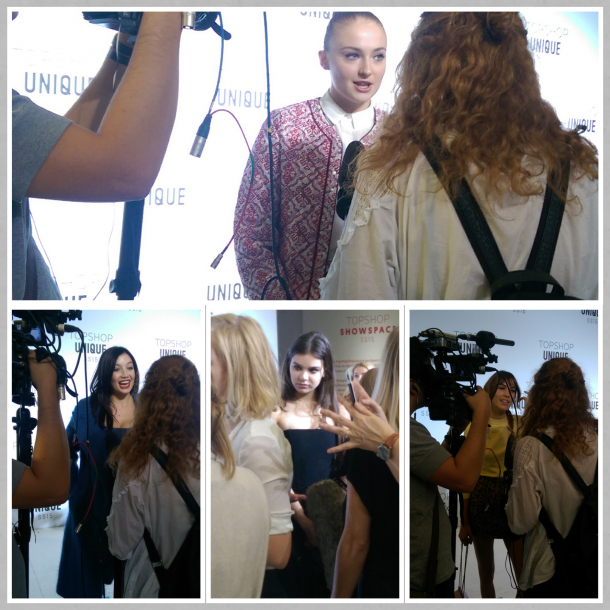 I'd like to say that the first thing I do every morning is read Women's Wear Daily to check out the overnight fashion news but I don't. Nope, alarm goes off, I sit up, and I check out the latest showbiz. So when I get the chance to get almost up close and personal with the A-listers, I get a bit excited (on the inside obviously but sometimes it just explodes out).
At House of Holland, I was blinded by camera flash thanks to my seat behind Alexa Chung, Daisy Lowe, Nicola Roberts, Ella Eyre, Abby Clancy and the ultimate one, Rita Ora (and her new buzz cut). I couldn't see for at last fifteen minutes and had a hazy view of the first four exits down the catwalk. Little Mix were wandering around casually at Somerset House, and seemed only too happy to pose for pictures. The aforementioned Topshop Unique was no disappointment as I got a birdseye view of the celeb arrivals of Sophie Turner (Sansa from GOT), actress Hailee Steinfeld and Alexa, once again in the most divine yellow jumper.
No Spring Summer season is complete without a trench and plenty of designers interpreted the traditional cut, to produce their own version. South Korean designer superstar Eudon Choi was the one to watch for me with cinched in wrists and waist; Hunter added a contemporary feel to it's silhouette and Jasper Conran went with sports luxe for his version, and his entire collection.
Paul Costello made quite the return with a delightful show at Simpson's restaurant, where the Irish press filled with FROW. Cocoon silhouettes, jacquard in soft silver, neon green and orange caught my eye and saw a return to the front of the pile for Costello.
Meanwhile back at Somerset House, young designer Danielle Romeril showed 20 pieces which really impressed as she does every season. Sonya Lennon and Brendan Courtney took part in the Wolf and Badger (their London stockist) presentation in Covent Garden where it's essence of was refreshing and incredibly wearable. These two design for real women and I can't get enough to be honest.
We can't have fashion week without a party!
One of the best parties of the week was the launch of the latest edition of Hunger Magazine. If you haven't heard of it you need to check out their website. The brainchild of photographer Rankin, Hunger has gained cult status in the fashion industry for it's "no qualms" approach to shoots thanks to Rankin's edgy vision on what fashion editorial should look like (and I had the pleasure to work with him in my modelling days in 2001 when he came to Dublin to shoot a magazine cover with Elvis Costello).
Advertised
Saturday night it was Lulu Guinness' turn to launch a gallery of imagery which she has entitled "The Lulu Perspective".  In fairness, you just can't beat a bag that looks like lips.
Did you follow the London Fashion Week shows? What was your favourite?