 Borrowing from the boys is a big trend this season and today, we're looking at suits.
There's no more surefire to feel empowered (when it comes to fashion, at least) than stepping into a well fitting power suit. Thing is, it's hard to know where to start when adding to your power dressing wardrobe, and sometimes, there's just something a little daunting about donning a suit; heads will turn, eyes will follow and there's probably a misconception that if you're wearing a suit, you'd better mean business. Not to mention the possible 1980s super powered shoulder pad connotaitons.
But can't it just be for the love of fashion? And can we wear a suit beyond the four office walls? How do we take it from day to night? And how do we keep things relevant, updated and feminine? And lastly, do we really need to haul ass to a tailor for something that really fits?
Before you scuttle off to Saville Row, let's take a look at how the stars embrace the power suit and what tips to remember.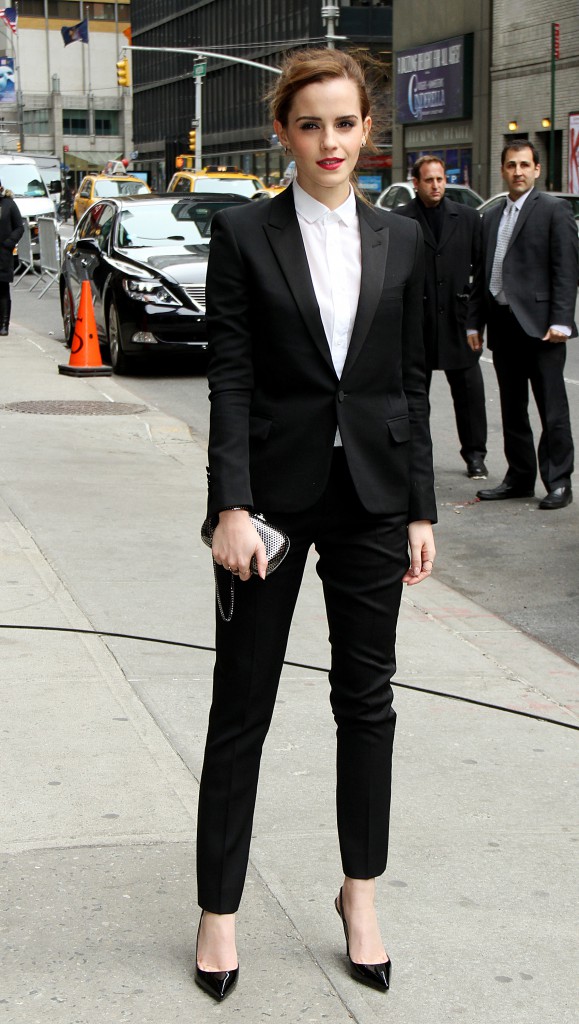 Emma Watson sticks to the androgynous look here by opting for a white shirt, buttoned right up to the top. Like most of our celebs here, it seems your best bet is to go for a slightly cropped trouser length, showing off your elegant ankle (or cankle, in my unfortunate experience), and your killer heel.
Add a strong lip shade and an eye-catching clutch to keep things feminine.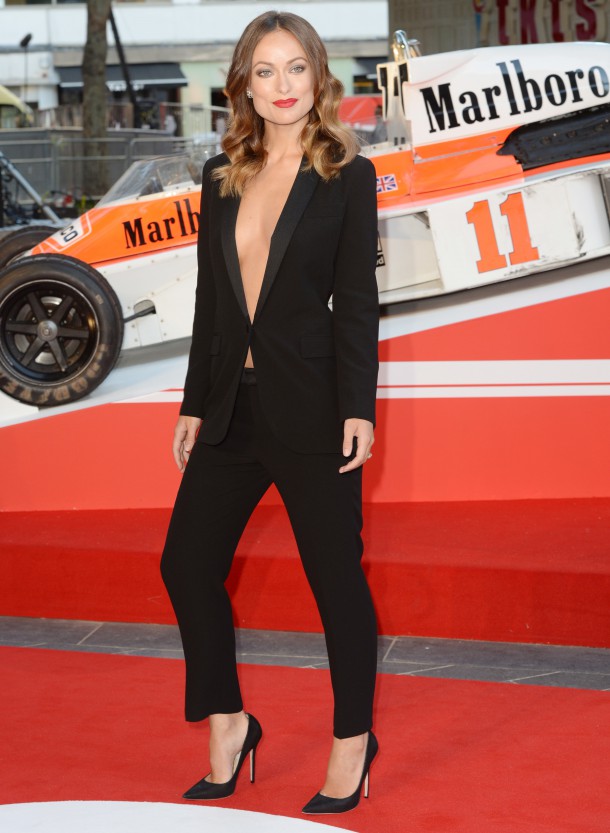 Well this certainly answers the question of how we take it from day to night.
Do away with the shirt and invest in some double-sided tape. Olivia Wilde here has gone for the classic tuxedo style lapel with, again, the perfect length of trouser to show off those beautiful shoes.
Advertised
Don't tack-ify things up by adding some gaudy chain, let your décolletage do the talking while you keep the focus on a striking red lip. While most of our other celebs here will pull their hair back for a more masculine look, Olivia keeps things soft and feminine with an old Hollywood style curl.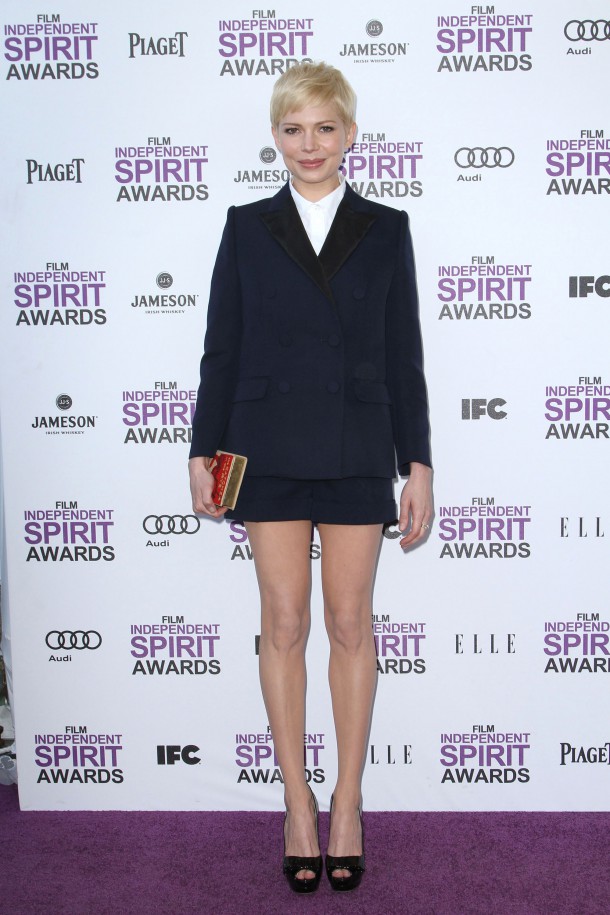 If you want to try out the suit look but still want to show off your enviable pins, then take a leaf out of Michelle Williams' book and opt for a mini skirt - the perfect marriage of masculine and feminine. However, bear in mind, if you're going super short with the skirt/shorts and you want to keep the focus on the suit style, go for a buttoned up shirt, just like Michelle.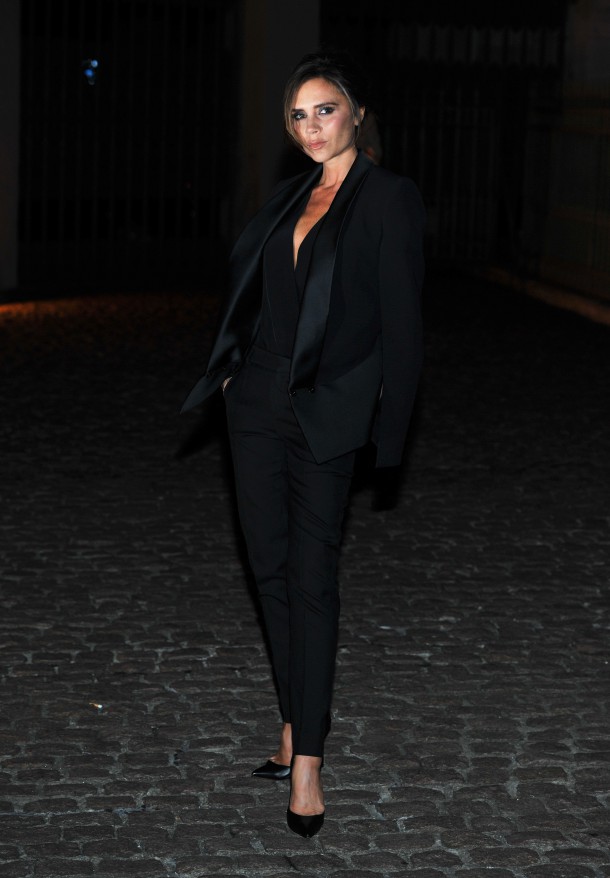 No-one wears a suit quite like VB. This is a good example of how to keep your look a little more laid back. By choosing a low slung, loose blouse, in the same shade as your suit, and trousers that have actual pockets (so few do, I've found), you'll be rocking the androgynous look with ease. Again, no power suit is complete without an equally as powerful pair of shoes.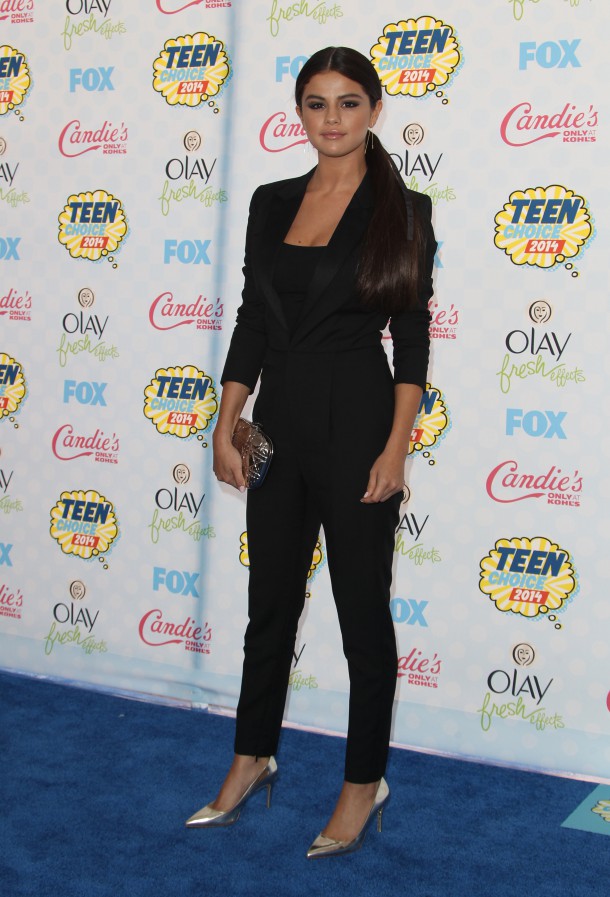 We were very impressed with Selena Gomez' grown up effort at this year's Teen Choice Awards.
Clearly, Selena keeps well up to date with the trends, as she marries her power suit with a pair of metallic, pointed stilettos. This is how you keep the look relevant in 2014. The shorter sleeve allow for some arm accessories, if that's your thing, but it's the hairstyle here that really works. A simple pony tail with super straight locks is the easiest way to add some extra empowerment to your look.
Advertised
Are you tempted to splurge on a two-piece suit? What's your favourite look from above? Or can you just see boardrooms and 1980s wigs?
Get Beaut.ie Delivered
Stay updated with Beaut.ie newsletters full of the latest happenings at Beaut.ie as well as great offers and things we think you might find interesting .