 Swimsuits these days. They're floral; they have patterns and prints. They're frilly, bright and beautiful. You simply can't limit them to the beach.
The defining difference between a swimsuit and a bodysuit is that a bodysuit can open at the crotch. It's why we don't generally wear swimming togs as tops. The indignity of having to take all your clothes off to answer the call of nature is reason enough. But I can't be the only one to notice how wearable swimsuits have gotten. It's like the florals and frills and prints and patterns want to be worn out and about in cities and towns. It would be a crime to save them for the beach.
The obvious swimsuit-as-top partner is an easy-to-pull-off skirt, but I would wear mine with a pair of mom-jeans for ultimate Winona Ryder channelisation. Remember in the good old days when chislers could play outside all day and mams wouldn't be in the least bit worried when they couldn't get in touch because they couldn't get in touch? Those were the days of swimsuits under jeans.
Because this is the age of influence and 'beach bods' and feeling shit about ourselves, the swimsuit was item of clothing non grata for a while. But, despite the shackles of social media tightening by the second, revolution is in the air. And so is swimwear fitted with shapewear.
This summer, there's a swimsuit for everyone. No, seriously, there is. If you want a high-leg Baywatch-style suit, you got it. If you've been working those glutes all year and want the world to know it, there's a Brazilian for you. I'll be sporting something that covers the entire ass area and maybe has long sleeves, but I'll wear it proudly. And I'll wear it with jeans.
Topshop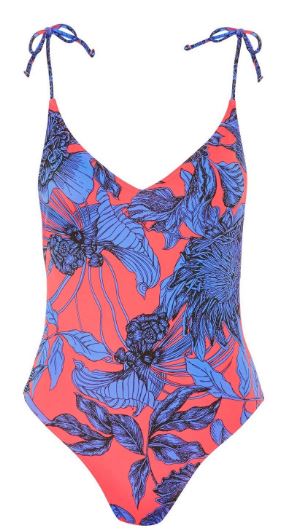 Advertised
New Look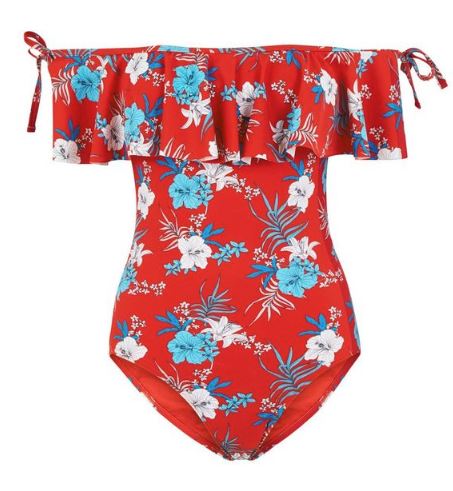 Red Floral Frill Bardot Swimsuit €17.49
Zara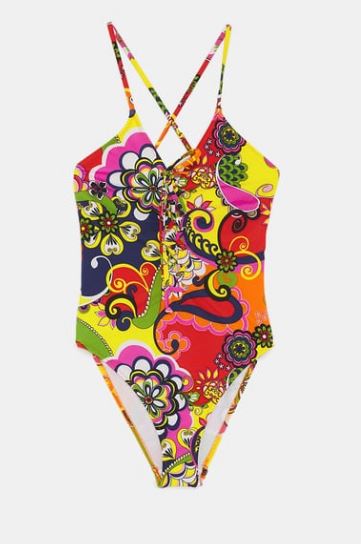 Advertised