 In denim, skinny jeans have reigned supreme for eons, and it's taken me nearly as long to find a pair that doesn't make my lower half look exactly like a muffin atop a pair of over-stuffed sausages (M&S 5 pocket jeggings, if you're wondering).
But as anyone who's idly flicked through a glossy lately can attest, something interesting is happening in the world of jeans: the boot-cut is  making a comeback!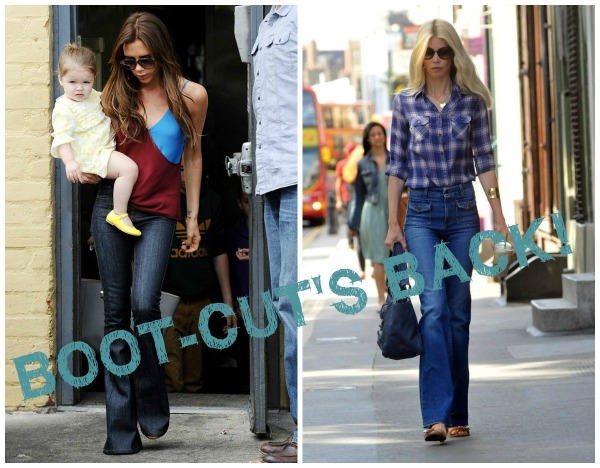 Victoria Beckham is leading the charge, invariably modelling something wonderful from her own denim collection, and Claudia Schiffer is rarely out of this style. Vanessa Hudgens, Rachel Zoe and Hayden Panettiere have also been spotted out and about and looking fabulous in their kicked out strides.
We all know the triumphant, transformative feeling of a really brilliant pair of jeans and equally, the hours of frustration that can go into finding them – it's why we've written so much on the topic! But boot-cut jeans are potentially the most figure flattering and female-friendly shape of all.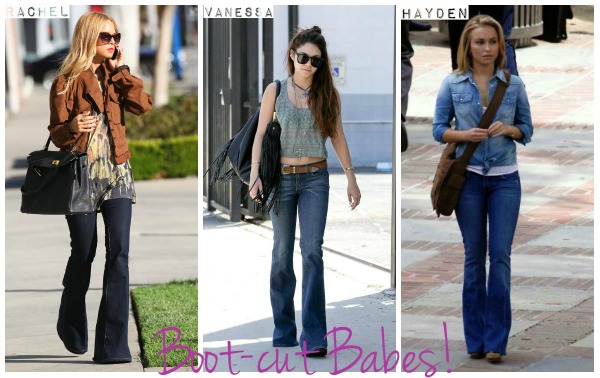 Advertised
On curvier girls, a darker denim can slim the thigh while the flared hem balances out the hips. The waistband tends to be higher so there's less risk of the muffin-top. And they look best with a chunky heel or wedge, so there's some leg lengthening action going on, too.
On tall or slimmer types, as evidenced by Claudia and co, this style looks long and lean and utterly sophisticated…though I do think it looks a tad strange when you can't even see a glimpse of footwear; it looks like the wearer doesn't actually have any feet. Or is that just me?
These days though we're so used to the skinny silhouette that on normal people – civilians, as Liz Hurley so tenderly calls us (herself no stranger to a nice pair of  boot-cuts in white) – is there a risk of looking, well, a little frumpy? Like we're out in our mothers' jeans?
Advertised
You tell us: is the boot-cut revival brilliant or bonkers? To the comments!